Jared Tallent: Australian Olympic champion backs calls for 'far-reaching reform' of Wada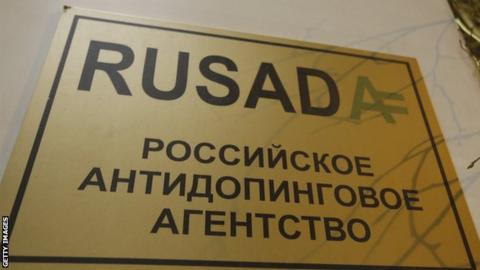 Australian Olympic champion Jared Tallent has become the second high profile athlete to endorse a shake-up of the World Anti-Doping Agency.
It comes after Wada reinstated Russia's anti-doping agency following a three-year ban for alleged state-sponsored doping.
Four-time Olympic medallist Tallent said: "Wada's governance, in its current form, is not fit for purpose."
His comments follow those made by British Paralympic medallist Ali Jawad.
Powerlifter Jawad, a silver medallist at Rio in 2016 and a member of UK Anti-Doping's Athlete Commission, had called for a "far-reaching reform" of Wada.
And race-walking champion Tallent, 34, backed the proposals put forward by Jawad in a paper, 'The Alternative: Reforming Wada's governance for a new anti-doping age'.
Wada president Sir Craig Reedie said Russia's reinstatement was "subject to strict conditions" and that the anti-doping authority must be given access to former Moscow laboratory data and samples.
Wada is conducting an independent governance review process which it says has the support and involvement of athlete representatives, and has appealed for its critics to enable it to "move forward".
Tallent described the governance structure of Wada as being "broken" and said "athletes were worried about the direction" the organisation was heading in.
"In the absence of there being the robust and single-minded leadership that we require, it is now incumbent on us, the athletes, to drive the change that we all want to see in Wada," he said.
"The lack of independence, along with the fact that decisions that impact the livelihoods of clean athletes are made surreptitiously and 'behind closed doors', are two areas of huge concern to international athletes."
In a lengthy statement, Tallent also condemned Wada and the International Olympic Committee for their response to bullying allegations and called for a "transparent inquiry" into the matter.
Two-time Olympic gold medallist Ed Moses says he was told to "shut up" at a World Anti-Doping Agency meeting, which Wada denies.
While Beckie Scott, Wada's Athlete Committee chair, has previously told the BBC that some officials tried to "bully" her over her opposition to Russian reinstatement.
Wada say an independent expert will look into her claims.
In a statement, Wada said: "It's clear there is a small, politically motivated group of detractors who since the decision on Rusada's reinstatement one month ago have attempted to destabilize the global anti-doping program by criticizing Wada, the Olympic Movement and the governments of the world, who voted for the reinstatement of Rusada.
"This coordinated group have aligned themselves with some genuinely concerned athletes in order to further their own motives.
"It's time to put aside these political motives and ensure that Russia fulfils the conditions of its reinstatement, for the good of clean sport."