Pool is 'better to watch' after rule change say leading players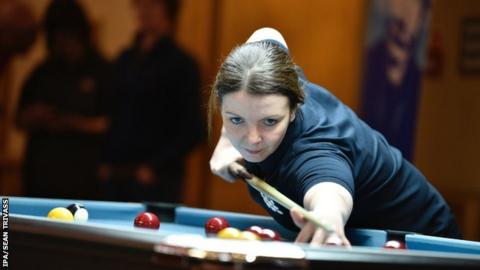 IPA Tour 5 - British Open
Venue: Heston Hyde Hotel, London Dates: Sat 20 & Sun 21 October
Coverage: BBC Sport website, app and connected TVSaturday: 10:15-23:00 Open eventSunday: 11:30-20:00 Professional and Women's finals
Pool is a more exciting game to watch and play since the switch to blackball rules, say leading players Clint I'Anson and Emma Cunningham.
The pair are playing in this weekend's British Open in London, the fifth and final event of the 2018 IPA tour, which will be streamed live on the BBC.
"It's a lot more attacking and it's a lot easier to watch," said I'Anson, who is sixth in the current rankings.
Cunningham has won two women's events in her first season on the tour.
| IPA Tour winners 2018 | Men's Professional | Men's Open | Ladies |
| --- | --- | --- | --- |
| Wales Open (Cardiff) | Ronan McCarthy (GB) | Simon Ward (Wal) | Emma Cunningham (NI) |
| Scottish Open (Aberdeen) | Jon McAllister (Eng) | Mark Boyle (Sco) | Nat Madden (NI) |
| England Open (Bradford) | Jordan Shepherd (Wal) | Neil Raybone (Eng) | Emma Cunningham (NI) |
| European Open (Coventry) | Jordan Shepherd (Wal) | Jon McAllister (Eng) | Nat Madden (NI) |
"The attacking nature of blackball is great - the frame can always be won," she told BBC Sport.
"It gives you options. The numbers the IPA are getting in terms of players entering and switching to blackball - it speaks for itself.
Cunningham, three times world champion under the old rules is the reigning European Champion in blackball.
Blackball pool - the basics
One point per ball that goes fully past an imaginary line between the middle pockets and/or one point per ball legally potted. Failure to reach the three-point minimum is a foul break.
Skill shot: It's OK to pot your own and your opponent's ball at the same time - this rewards attacking play by 'unblocking' pockets.
Fouls: The first shot after any foul is a free visit, but the player then continues with just one shot.
The recognised rules are set by the WPA, pool's international governing body
She has won the Wales and England Opens this season, reaching her first three finals and sharing the honours over the first four events with Northern Ireland team-mate Nat Madden.
"I was disappointed with the last one - I didn't get out of the group stage, which was very frustrating," she said.
"I'm more focused coming into this one, better prepared. So I'm looking to finish as I started."
I'Anson has three podium finishes on the Tour this season and won the British Open professional title last season.
"Now the rules have changed to blackball pool, it's a lot more attacking and it's a lot easier to watch," he said.
"Before there was a lot of covering the bag [pocket] or playing a safety shot. Now it's all about potting and clearing all the time.
"Pool's definitely going in the right direction - I think we just need a bit of luck to get a good sponsor or two on board."