Tokyo 2020: UK Sport offers new investment for unfunded Olympic and Paralympic sports
Last updated on .From the section Sport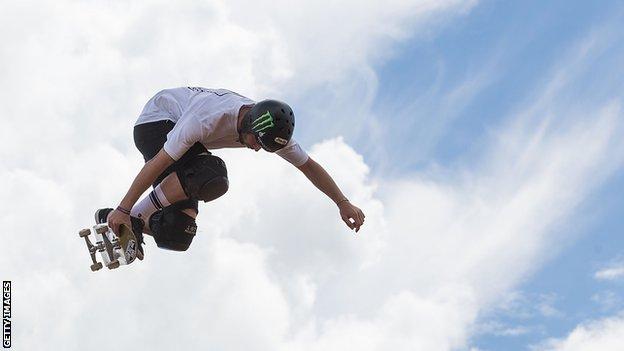 New investment for unfunded Olympic and Paralympic sports could "make the difference" between athletes qualifying for Tokyo 2020 or not, says the chief executive of Skateboard England.
A £3m Aspiration Fund has been launched by UK Sport in a bid to help more athletes compete at the Tokyo Games.
Sports eligible to apply include the five making their Olympic debuts in 2020, of which skateboarding is one.
British Handball said the new fund had "come much too late".
Funding agency UK Sport awards cash only to sports it believes can deliver medals, and skateboarding missed out on funding as it was judged not to have demonstrated medal potential.
All unfunded summer Olympic and Paralympic sports are eligible to apply for the new fund, as are sports in receipt of individual athlete medal support plan funding.
James Hope-Gill, who leads Skateboard England, said the body was "very excited".
"If we are successful in our application, this means that we will be able to give an opportunity to GB skateboarders to enter Olympic qualification events around the world so that they can gain ranking points," said Hope-Gill, who added it was an "unexpected opportunity".
"Many of our skateboarders currently aren't able to afford to travel to these events so the potential funding could make the difference between qualifying for the Games and not."
British Surfing, which last month set up a crowdfunding page after also missing out on funding, also believes the Aspiration Fund could prove the difference.
"This sort of funding, carefully managed, can absolutely give them the best preparation for Olympic qualification," said director Nick Hounsfield.
British Handball said the opportunity had come over 10 months since teams began playing fixtures which will impact on their chances of reaching Tokyo 2020.
"Sadly this fund will be of little help to British Handball, and indeed many other unfunded sports, whose qualifying process for the Tokyo Games is already well under way," a statement read.
Which other sports could benefit?
Grants awarded from the Aspiration Fund will run until the end of the Tokyo Olympic and Paralympic cycle.
It is also likely to benefit sports such as badminton, archery, fencing, weightlifting and wheelchair rugby, which all lost their funding after the Rio 2016 Olympics and Paralympics.
Badminton and archery earned a reprieve in February when some of their athletes were placed on the medal support plan.
"The Aspiration Fund will give more sports the chance to inspire the nation and shine at Tokyo 2020 and beyond," said sports minister Tracey Crouch.
"This £3m bridges a gap between grassroots and elite funding, and will help sports grow and develop future champions.
"UK Sport investment has transformed Britain into an Olympic and Paralympic powerhouse. But there are sports, not on UK Sport's world-class programme, that do a huge amount of good in communities that we can help on their path to the podium."
Alongside their plans to qualify for Tokyo, sports must outline how they will use the funding to to capitalise on the impact of competing at the Games to "engage and inspire communities".
Liz Nicholl, chief executive of UK Sport, added: "This new Aspiration Fund is a fantastic opportunity for some sports to get on track for the Tokyo Games.
"Many of the sports we are currently unable to support, while further away from reaching the podium, have great potential not only to inspire through their performances on the field of play but also to have a genuine social impact in communities across the UK."