Youth Olympics: Will the new Tom Daley emerge in Buenos Aires 2018?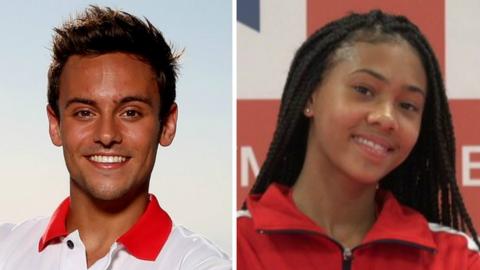 2018 Youth Olympic Games
Venue: Buenos Aires, Argentina Dates: 6-18 October
Coverage: You can watch daily live coverage of the Youth Olympics via the BBC Red Button and BBC Sport website & app from 14:00 BST each day and highlights from 08:00 BST each day.
British athletes have achieved record-breaking medal hauls at the last three Olympics, but who are the next generation of superstars?
Team GB will be represented by 43 talented youngsters, each hoping to prove they have that potential when they begin their Youth Olympics quest in Argentina this week.
Buenos Aires 2018 is hosting the third edition of the summer Youth Olympics and several British athletes have progressed to the senior ranks after being successful on the junior stage.
Jade Jones followed her taekwondo victory at the Singapore 2010 Games with successive Olympic titles in London and Rio, while Sam Oldham (Singapore 2010) and Duncan Scott (Nanjing 2014) also won titles two years before securing honours on their senior Olympic debuts. World champion diver Tom Daley is another Youth Olympics graduate.
And with that pedigree in mind, there is every chance some of the 2018 competitors will be targeting places at the Tokyo 2020 Olympics.
Team GB's largest-ever Youth Olympics squad is made up of 15 to 18-year-olds who will be competing in 17 of the 32 sports, with the championships beginning on Saturday, 6 October.
What's new for 2018?
International Olympic Committee (IOC) president Thomas Bach describes the Youth Olympics as a "kind of laboratory" where among traditional sports a host of new events are assessed.
One sport making its senior debut at Tokyo 2020 after being successfully demonstrated at the Nanjing 2014 Youth Olympics is 3v3 basketball.
That means there is a chance that 'dancesport' - essentially breakdancing - futsal, beach handball and roller speed-skating could be considered for future senior Games.
"We will monitor very closely the performances of these new disciplines and sports and then when it comes to putting the programme for Paris 2024 together these results will play an important role," says Bach.
Karate, sport climbing and freestyle BMX will also appear as medal events at an Olympics for the first time - two years before their senior bows in Japan.
Buenos Aires 2018 will also be the first Olympic event in history to feature an equal number of female and male athletes - about 4,000 competitors in total - who will compete across 241 medal events.
Unlike the senior Olympic Games, when Team GB are set a medal target by funding body UK Sport, there are no such pressures placed on young athletes.
However, the British squads delivered podium finishes at Singapore 2010 and Nanjing 2014 and with a host of junior world and European medallists among the Team GB line-up, plenty of success is expected in Argentina.
Who are the Team GB ones-to-watch?
Who? Amelie Morgan (age 15)
Sport: Artistic gymnastics
When does she compete? 7-10, 12-13 and 15 October
Background: Amelie Morgan is perhaps the best-known athlete in the Team GB line-up with the 15-year-old having amassed thousands of fans for her leading role in the CBBC series 'GymStars'.
Morgan - a history-making five-time European junior medallist - is looking to follow Ellie Downie, who won a silver and three bronze medals at Nanjing 2014 before going on to become one of the world's strongest young gymnasts, winning world bronze in 2015.
Who? Aaliyah Powell (age 15)
Sport: Taekwondo (-49kg)
When does she compete? 8 October
Background: Since Sarah Stevenson's breakthrough bronze medal at Beijing 2008, Britain has gone on to become one of the world's strongest taekwondo nations.
Powell, who became world junior champion earlier this year, is among a group of talented young British fighters and is hoping to follow double Olympic champion Jones' career path by securing Youth Olympic gold and following it up with senior success in two years' time.
Who? Ross Cullen (age 17)
Sport: BMX Mixed Racing Team
When does he compete? 7 Oct
Background: Former riders Shanaze Reade and Liam Phillips shared four World BMX Supercross Championship titles between them, but never achieved an Olympic honour.
As such, two-time world junior champion Cullen - a self-proclaimed "adrenaline junkie" - has the chance to become the first-ever British BMX medallist at an Olympic event.
Who? Adam Tobin (age 17)
Sport: Artistic gymnastics
When does he compete? 7-11, 13-15 October
Background: Tobin is the Under-18 British All Around champion who also won GB junior medals on the parallel bars and high bar.
He is hoping to follow in the footsteps of Oldham by claiming Youth Olympic medals and then challenging for honours at future senior Olympic Games.
Who? Caroline Dubois (age 17)
Sport: Boxing (60kg lightweight)
When does she compete? 15-16 & 18 October
Background: The 2018 world junior champion has also claimed two European junior titles in recent years and aspires to be the 'next Nicola Adams', having been inspired by her gold medals at London 2012 and Rio 2016.
Who? Islay Watson (age 17)
Sport: RS:X Windsurfing
When does she compete? 7-9 & 11-12 October
Background: Bryony Shaw's bronze at Beijing 2008 remains GB's only Olympic windsurfing medal won by a woman and Watson - the reigning world junior champion - will be looking to demonstrate her credentials for future success.
However, she and her fellow windsurfers will also aim to prove why the sport deserves to remain in the Olympics programme - with World Sailing having threatened to remove it several times in recent years.
Who? Javier and Joaquin Bello (age 18)
Sport: Beach volleyball
When do they compete? 7-17 October
Background: The twin brothers who were born in their father's home nation of Spain only moved to the UK seven years ago, but became England's first-ever Commonwealth Youth Games beach volleyball medallists when they claimed gold at the 2017 edition in the Bahamas.
The pair are desperate to raise the profile of their sport in Britain with no senior athletes having qualified for the last Olympics at Rio 2016.
Who? Charlotte Hope (age 17)
Sport: Karate (-59kg)
When does she compete? 17 October
Background: Karate will make its senior debut at Tokyo 2020, meaning those fighting at Buenos Aires 2018 will be the first-ever karate athletes to bid for Olympic medals in the sport.
Hope has won both European junior gold and World junior bronze in an already highly successful 2018 season.
Who? Michael Dalton (age 18) and Theo Darlow (age 18)
Sport: Rowing
When do they compete? 7-8 October
Background: Won gold together as part of the men's four at this year's World Junior Championships and finished second as a pair at the Munich junior Regatta in May.
They will be looking to boost morale in the British Rowing setup after disappointing World and European Championships for senior athletes in 2018.
BBC Coverage
You can watch daily live coverage of the Youth Olympics via the BBC red button and BBC Sport website from 14:00 BST each day and highlights from 08:00 BST each day.