Britain could bid for football and rugby World Cups & Tour de France start, says UK Sport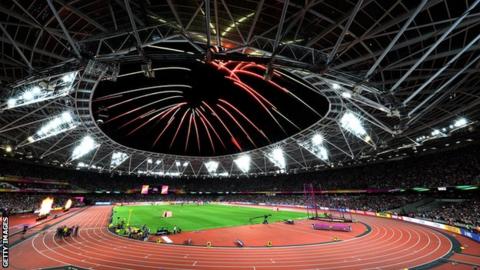 UK Sport has released a list of major international events Britain could bid for over the next two decades.
It includes football and rugby World Cups, the starts of all three of cycling's Grand Tours, the Ryder Cup and the World Athletics Championship.
It builds on a plan that already sees the funding agency seeking to host 40-60 events by 2025.
UK Sport says the targets "reinforce the country's status as a world-leading host of major sporting events".
And it added it would "position the UK on the world stage as a welcoming, active and global nation".
It also claims the events, across Olympic, Paralympic and Commonwealth sports, have the potential to attract more than 15 million spectators and generate an economic boost of almost £2bn to local communities.
UK Sport's strategy to bid for major sporting events and "inspire the nation" was first launched in October 2017 and covered the period to 2025. But a year on, the scope and ambition of the strategy has been widened.
Among the major events to be targeted are:
The start of the Giro d'Italia, Vuelta d'Espana and Tour de France
The 2025 Women's Rugby Union World Cup
The 2026 Ryder Cup
The 2027 World Athletics Championships
The 2030 Football World Cup
The 2031 Rugby Union World Cup
UK Sport chair Dame Katherine Grainger told BBC Sport that the UK was highly regarded when it came to hosting major sporting events.
"We've seen over the last few years that the UK is amazing at hosting major international global sporting events that have inspired people and showcased great athletes," she said.
"It has shown not just how great UK support is, but how great the UK is at hosting events, and they have a lot of credibility.
"We want to maintain our standing as a world leader in this area and our ambitious event strategy will help us do just that over the coming decades."
But Grainger admits the extensive list, which includes over 50 potential events, is a wishlist.
"It's not a conclusive list of things that we will definitely target, never mind expect to get," she added. "We couldn't afford to get them all anyway.
"[It is] a comprehensive list of opportunities of what's available to get. There will be lots of feasibility studies - what's out there, the best for sport but the best for the nation.
"We want to see where the impact lies as well. So I couldn't put a number on them because they are all very different."
Events already secured by UK Sport include the men's 2019 Cricket World Cup, 2019 Netball World Cup, 2019 Solheim Cup, 2019 World Wheelchair Curling Championships, Euro 2020 Football Championships, 2021 Rugby League World Cup, 2022 Commonwealth Games, and 2022 World Gymnastics Championships.
There is also a live bid to host the 2021 Uefa Women's European Championships.
UK Sport's announcement was welcomed by the Sport for Development Coalition, a group of 60 organisations dedicated to proving the social value of sport and physical activity.
Coalition manager Sarah Mortiboys said: "We look forward to working with UK Sport and other partners to deliver a sustainable legacy for these events which is based on its ability to change lives, and increasing participation.
"We know that used in the right way sport and physical activity can make a valuable contribution to the lives of individuals, and their communities."
Analysis
With Brexit looming, the government is keen to build on the reputation Britain has gained since the London 2012 Games for hosting international sport.
It believes these events can be a way Britain can use its 'soft power' to get trade deals, demonstrate the country is open for business in the post-Brexit era, and act as a unifying force.
A British and Irish 2030 World Cup bid is clearly the priority, but after the humiliation of England's £21m 2018 bid in 2010 at the hands of Fifa, the wisdom of another attempt will be questioned.
There are also concerns about the burden that staging the Commonwealth Games in 2022 will place on cash-strapped Birmingham council, and some will ask whether the cost of such events are justified by the legacy benefits.