Tokyo 2020 Olympics: Organisers looks at measures to combat heat
Last updated on .From the section Sport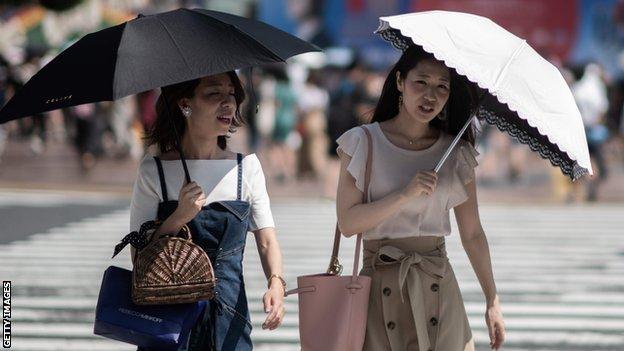 Organisers of the Tokyo Olympics in 2020 plan to use the latest technology to help deal with any heat issues.
Temperatures reached a record 41.1C in Japan on Monday, with the country experiencing a heatwave this summer.
Tokyo's average July temperature is over 30C and safety measures being looked at include "mist-spraying" and "heat-blocking" technology.
"In recent days Tokyo and Japan has been like living in a sauna every day," said Tokyo Governor Yuriko Koike.
"For the athletes, I am sure they are training and very healthy in their bodies but for the spectators, who are cheering along the roadside, we cannot necessarily say they are training themselves to be very healthy.
"So, how to deal with this heat? This is one pillar needed for the success of the 2020 Games."
More than 100km of road, including the routes for the marathon and walking events, could be sprayed with a product that reflects heat and ultraviolet rays to reduce temperatures.
Moving the marathon start time to 07:00 local time is also under consideration.
"We have developed mist-spraying technologies, which are nano-particle-sized," said Koike.
"In terms of the road, there is the heat-blocking or insulating technology.
"If this heat-blocking pavement is covering the asphalt then, on average, there will be a temperature suppression of eight degrees Celsius."