Gender-based violence in sport: Researchers call for 'urgent attention'
By Katie Falkingham
BBC Sport
Last updated on .From the section Sport
The level of violence against women and girls in sport needs to be given "urgent attention" by worldwide sporting organisations, new research says.
Researchers studying gender-based violence in sport believe the true picture of how widespread the problem is remains unknown and want sporting bodies to take action.
Their study, commissioned by the International Working Group on Women and Sport (IWG), found more than a third of organisations asked had not taken action since they were last surveyed in 2013.
Almost a quarter of that third said they had not taken measures to address gender-based violence because it was "not an issue" for them.
And while that could be because they already had policies in place - or simply did not work directly with female athletes - those behind the report said dealing with gender-based violence should be a "priority".
Professor Elizabeth Pike, of the University of Hertfordshire and one of the international team of researchers who carried out the study, told BBC Sport: "We think that gender-based violence is something everybody working in sport ought to attend to in some way.
"People are saying that it is something that needs to be dealt with, so for us, it's a priority because there is still, in some societies, this lack of respect for girls and women because of gender stereotypes.
"The prevalence isn't clear. We think there is an under-reporting, and we think some of that is because people are afraid of reporting it."
Organisations seeking to end violence and abuse against athletes say they are "astonished" by the number of organisations failing to deal with gender-based violence.
"In light of the high level of public and media attention on abuse in sport globally, it is astonishing that any organisations can be allowed to continue to operate in denial," said anti-abuse campaigners Safe Sport International.
What is gender-based violence?
Gender-based violence is defined by the European Commission as "violence directed against a person because of that person's gender or violence that affects persons of a particular gender disproportionately", and in the report commissioned by the IWG, includes sexual, psychological and physical harassment and/or abuse.
"We also tend to talk of it in terms of non-accidental harm - it is deliberate harm towards someone," said Professor Pike.
However, Dr Melanie Lang, of Edge Hill University - who researched gender-based violence as part of a European Commission report - told BBC Sport that a lot of countries "do not know or use" the European Commission's definition.
"It means we can't compare countries which makes it complex to discover the extent of the problem," she added.
The issue was most recently in the public eye with the sex abuse scandal involving ex-USA Gymnastics team doctor Larry Nassar.
Olympic gold medallists Aly Raisman and Simone Biles were among more than 140 women to accuse Nassar - who has now been jailed - of abuse.
Previous high-profile incidences have also been reported in football and swimming.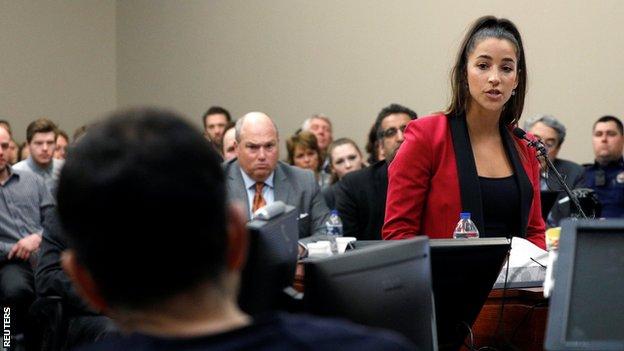 Main findings
The report questioned 158 worldwide organisations - including three from the UK - all of whom are signatories of the Brighton Declaration on Women and Sport.
That document calls on signatories to abide by the principle that women and girls should be able to take part in sport in a "safe environment".
The survey asked whether they had taken any action since 2013 [when the previous edition of the report was published] to prevent gender-based violence in sport.
37% of organisations had not taken action since 2013 to protect girls and women from gender-based violence

Of that, 28% of organisations had not considered taking action, while 24% of organisations said gender-based violence was not relevant to them

Of the 63% of organisations who had taken action since 2013, only 50% had adopted guidelines for handling cases, and only 47% had adopted a code of conduct during that time

Only 22% had established support mechanisms for victims
However, the report did find that 90% of National Olympic Committees have taken preventive actions while the International Olympic Committee (IOC) has recently released a gender equality review in which it lists the safeguarding of athletes from harassment and abuse as one of its key recommendations.
Why is there assumed under-reporting?
"People have told us in the research that there is a fear of reporting, a fear of recrimination and further violence if they report it," said Professor Pike.
"We know that people don't feel safe, they are concerned for other people's safety if they report gender-based violence, and there is shame. Some people think that if someone is violent towards them, it is their fault."
It is a view backed up by Dr Lang, who pointed to the "power dynamic relationship" that exists between athletes and their coaches.
"Because of that power dynamic, people are sometimes afraid to come forward because they may well lose their place in the team as a consequence," she said.
"Elite athletes are more likely to suffer from gender-based violence than amateur or recreational athletes, because abusers know that the athlete is less likely to speak out as they have more to lose."
What needs to be done?
Researchers have called for more studies to be undertaken to ascertain the prevalence of gender-based violence in sport, as well as a move towards gender mainstreaming - defined by Professor Pike as "making the actions towards gender equality part of absolutely everything that you do".
The UK is among the countries leading the battle against gender-based violence, exemplified by the creation of the NSPCC Child Protection in Sport Unit.
Dr Lang agreed that more research on the magnitude of the issue needed to be done, while also advising for more awareness of gender-based violence among all sport stakeholders, including athletes.
"There is a need for people higher up in sporting hierarchies to get on board with this issue and take it seriously," she said.
"Safeguarding is often assumed to be the responsibility of the club welfare officer, and beyond that, people higher up in the chain, or coaches don't see it as their issue. They see their core role as performance.
"It is the responsibility of everybody to prevent gender-based violence and manage it properly when it occurs."
Anne Tiivas OBE, chair of Safe Sport International, said: "Everyone involved in sport has a responsibility to ensure that participants are safe."
She added that her organisation would "advocate for stronger systems to be put in place to ensure accountability for those who fail to take action".
Female leadership in sport
The global study has been carried out for the IWG every four years since 1994 to address issues affecting women and sport. As well as gender-based violence, the latest report also looked at developing participation levels in physical activity and sport for girls and women, female leadership, and media coverage of female athletes among other topics.
Researchers found that a third of organisations "have not considered" taking action to increase the number of females in leadership positions.
In 2016, UK Sport and Sport England launched a new 'Code for Sports Governance' which set out a target of at least 30% gender diversity on the boards of sporting governing bodies.
However, Professor Pike said that "about half" of national federations are failing to meet that target, despite evidence saying that businesses and organisations function better if they have gender-equal boards.
Professor Pike said: "Whatever area of work you are in, for equity, productivity, everything points to having a gender-equal board.
"We know that when you get women into leadership positions in any organisation, but particularly in sport, they change the culture in a way that helps to address gender-based violence."
Media coverage of women in sport
Despite the growing interest in women's sport globally, there are still vast differences in the media coverage of men's and women's sport, with less than 10% of that coverage of sport being of women's sport.
While Professor Pike points to the number of female pundits and commentators at this summer's men's football World Cup in Russia as an example of women becoming more visible in the media, the report found most organisations have done little to change the portrayal of female athletes since 2013.
It found that while 63% of organisations had taken action to improve the amount of media coverage of female athletes, only 32% did so in respect to the portrayal of female athletes in the media.
"We were really pleased that about two thirds of the respondents said they had taken action to improve the amount of media coverage, but less than half tried to change the way that women are portrayed in the media," said Professor Pike.
"There is evidence that the portrayal of women in the media is actually getting worse. There has been a recent report that says that women are increasingly sexualised in the way that they are covered in the media.
"That is hugely problematic for us because if it portrays women in a sexualised way, not only does it demean the women in the sport, but it contributes to this culture where women can be treated in a way that could lead to gender-based violence."
If you have been affected by the issues raised in this article you can find the details of organisations offering support via Action Line