Women in Sport: New report calls for culture change at all levels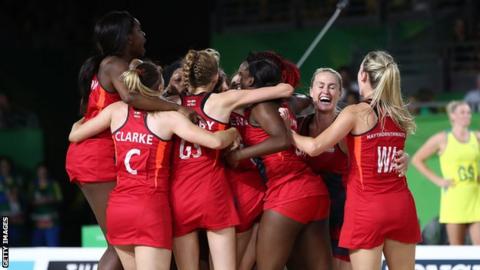 Having more women leaders in sport is "not enough" on its own to bring about cultural change, says campaign group Women in Sport.
It is one of the conclusions of a new report by the charity, which works to promote gender equality in sport.
Beyond 30% - Workplace Culture in Sport was based on surveys of more than 1,000 people working in sport.
Women in Sport will share the report to help "raise awareness and understanding" of discrimination.
Of those surveyed, 38% of women working in sport said they had experienced active discrimination because they were female, compared to 21% of men.
"We have to work with the sport sector to change things for the better, building a more inclusive workplace culture, where both women and men can reach their full potential," said Women in Sport chief executive Ruth Holdaway.
Women in Sport has monitored the number of women in board and senior leadership roles in sports national governing bodies in England and Wales via its annual Beyond 30% audit over the past seven years. However, this year's research focused on the culture within sport.
The report said there "is a need to redress the gender imbalance".
It added: "To bring about meaningful and lasting change, redressing the gender imbalance alone is not enough.
"It is vital to also address the barriers within the culture of sports organisations to create environments in which both women and men truly thrive."
According to the survey:
30% of women working in sport and 11% of men had experienced what they called "inappropriate behaviour" from the opposite sex.
72% of men working in sport said they believed there is "fair and equal treatment of men and women in their organisation", compared to 46% of women.
58% of women said they felt they had to prove themselves more than men, whereas 42% of men said the same.
The results came from in-depth discussions with 42 men and women and a survey of 1,152 men and women, carried out between September 2017 and March 2018.
Those surveyed work within the sports industry at companies such as national governing bodies, leisure organisations, county sport partnerships and sports charities, but did not athletes, volunteers or coaches.
"I believe that the sport sector understands that gender discrimination is wrong, but our report shows that under the surface it is still happening," said Holdaway.
"We led this in-depth research to get to the heart of this issue and understand why."