UK Sport: National consultation launched to address how elite sport is funded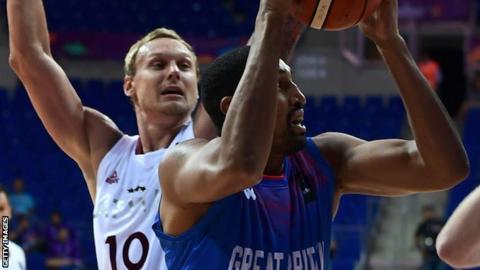 A national consultation is being launched on Monday to determine whether Britain should change the entire way it funds elite sport.
UK Sport invests £100m of National Lottery and government money into high-performance sport each year.
Its medals-based, 'no-compromise' policy has been credited with the country's Olympic and Paralympic success over the past two decades.
But the past two years have seen unprecedented criticism of its approach, with a series of controversies over funding decisions and athlete welfare leading to demands for an overhaul.
Background
UK Sport says the three-month consultation will allow the public, politicians and stakeholders to "help shape the future direction of elite sport funding and influence how it strategically invests in the next Olympic and Paralympic cycle from 2020-2024".
But sports that currently receive no funding, such as basketball and badminton, will be desperate to seize the opportunity to end the current focus on medal potential.
Last year, 11 sports launched a campaign demanding a "tiered support structure" that would guarantee every Olympic and Paralympic sport a base-level of funding.
There was also criticism that too much money had been spent on winter sports compared to more inclusive and accessible disciplines - £28.4m was allocated to British athletes in the lead up to Pyeongchang 2018, where Team GB met its target of a record five medals.
Five-time Olympic rowing champion Sir Steve Redgrave said more money should be spent on events that "people can get involved in".
Earlier this month the government agreed a one-off funding package worth £500,000 after British Basketball revealed a funding shortfall that put their entire programme at risk.
It does not receive support from UK Sport because it is not deemed to have medal potential at Tokyo 2020, but many believe it should be funded because it is the second largest participation team sport for teenagers in the country behind football.
England Netball's gold medal at the 2018 Commonwealth Games has led to questions over whether money should be allocated beyond just Olympic and Paralympic sports.
A series of athlete welfare and governance scandals at a host of sports has also raised concerns over whether UK Sport's relentless pursuit of medals is partly responsible for excessive pressure on funded sports to deliver targets, and failings in the high-performance culture.
UK Sport claimed a recent landmark survey of more than 2,000 elite athletes and staff proved the problems were not endemic in the system. But it also revealed that almost a third of athletes had witnessed unacceptable behaviour and feared reprisals if they voiced concerns.
'Thrown off a cliff'
Adrian Christy, the chief executive of Badminton England, told BBC Sport: "I welcome a review of the funding model and expect it to be thorough, open and transparent, and hope the outcome recognises that every Olympic summer and winter sport and every Paralympic sport matters.
"The current model takes no account of the popularity or participation levels of a sport and has thrown world class athletes, coaches and sports over the cliff.
"This cannot be acceptable, and is no way to treat the incredible talent who the lottery funded system was designed to nurture and support.
"This review presents an opportunity to better connect the sports system from kids in school through to our inspirational medal winners."
UK Sport chair Dame Katherine Grainger said: "The success of the UK's high performance sport system since the advent of National Lottery funding in the 1990s has been nothing short of remarkable.
"The challenge now is how we build on that success, aiming for even more inspirational impact on the UK as a whole.
"Financially there will always be a limit to the public funding available, whether that is National Lottery or exchequer funding, and so that means there are no easy answers when it comes to decisions."