Dame Tessa Jowell: Without her there would have been no London 2012 - Lord Coe
Last updated on .From the section Sport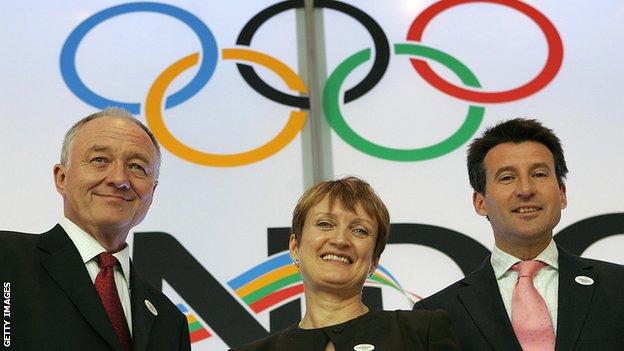 The London 2012 Olympics would not have happened without Dame Tessa Jowell, says Lord Coe.
Dame Tessa, who was diagnosed with brain cancer in 2017, died on Saturday aged 70 following a haemorrhage.
As culture secretary she played a major part in bidding for and organising the Olympic Games.
"There was nobody you would rather have in your corner. Without her the sporting landscape of the UK would have looked very different," said Lord Coe.
"Quite simply, without Tessa there would have been no London 2012, and without Tessa they would not have been the success they were.
"No politician deserves greater credit for the Games. She showed unflinching tenacity."
Dame Tessa won support from the Labour cabinet to name London as a candidate to host the Games. She was later made Minister for the Olympics.
London were awarded the Olympics and Paralympics on 6 July 2005 and went on to host an event that Coe said "lit up the world".
'She believed in sport for social change'
Sir Hugh Robertson, chairman of the British Olympic Association, said Olympic sport had lost "a very great friend".
"She absolutely believed in sport as an agent for social change - as a means for bettering people's lives and for the good it could do for people," he told BBC Radio 5 live's Sportsweek.
"London 2012 simply wouldn't have happened without her. She couldn't have done more to deliver it."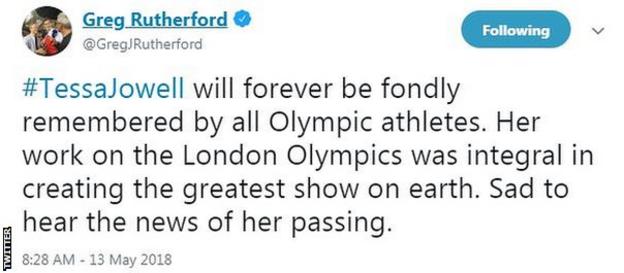 Dame Katherine Grainger, the chair of UK Sport, described Dame Tessa as a "much respected and loved figure within British sport".
"Tessa was a true believer in the power and inspiration of sport, for which all of us who benefited from her support and conviction will be eternally grateful," said Grainger, who won rowing gold for Great Britain at London 2012.
'We got lost in a golf buggy'
BBC sports news correspondent Richard Conway
On the opening day of the 2012 Olympics I was working as a producer for BBC Breakfast.
I had to pick Tessa up in a golf buggy very early and bring her to the live location. Only I got lost, with her on board, in the unfamiliar new park.
So there we are - me and the former Olympics Minister - going in circles at 6am in an empty park as I tried desperately to remember the way.
Some politicians would get angry. Instead she laughed, saw the funny side.
"We'll get there," she said. And we did. Eventually.