Rich list: Rory McIlroy top, Andy Murray second and Gareth Bale third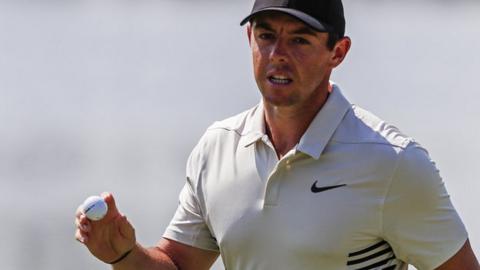 Northern Ireland's Rory McIlroy has been named the UK's wealthiest sports star aged 30 or under by the Sunday Times Rich List.
The 29-year-old golfer has seen his net worth grow by £28m in the past year to £110m, with two-time Wimbledon winner Andy Murray, 30, second on £83m.
Real Madrid's Gareth Bale, 28, is third on the list, and 29-year-old Manchester City striker Sergio Aguero fourth.
Boxer Anthony Joshua, 28, is fifth after earning £20m in the past year.
The list includes both those from the UK and those based in the UK.
The 17 sportsmen on the list, including four Manchester United players, are worth a combined £615m.
The full Sunday Times Rich List, which is in its 30th year, will be revealed on Sunday, 13 May.
The richest sports stars aged 30 or under
Rank 2018
Name
Sport
2018 wealth
Wealth increase-decrease
1
Rory McIlroy
Golf
£110m
Up £28m
2
Andy Murray
Tennis
£83m
Up £6m
3
Gareth Bale
Football (Real Madrid)
£74m
Up £20m
4
Sergio Aguero
Football (Manchester City)
£48m
Up £8m
5
Anthony Joshua
Boxing
£35m
Up £20m
6
Eden Hazard
Football (Chelsea)
£32m
Up £7m
7
Mesut Ozil
Football (Arsenal)
£28m
Up £5m
8
Theo Walcott
Football (Everton)
£26m
Up £4m
9
Paul Pogba
Football (Manchester United)
£25m
Up £10m
10
Juan Mata
Football (Manchester United)
£24m
Up £4m
11
Willian
Football (Chelsea)
£23m
Up £4m
12
Alexis Sanchez
Football (Manchester United)
£21m
Up £5m
13
Daniel Sturridge
Football (West Brom)
£19m
Up £3m
14
David de Gea
Football (Manchester United)
£18m
New entry
15
Andy Carroll
Football (West Ham)
£17m
Up
16=
Kevin de Bruyne
Football (Manchester City)
£16m
New entry
16=
Pedro
Football (Chelsea)
£16m
New entry