Roller Derby World Cup: Six things we learned in Manchester
Last updated on .From the section Sport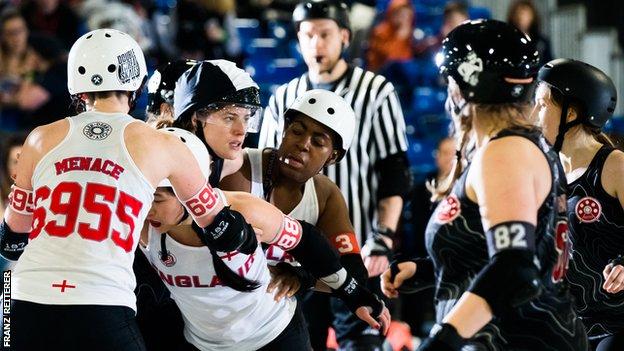 Ever walked into a room and felt you had just fallen into an alternative universe?
Sounds dramatic, but that was our experience at the 2018 Roller Derby World Cup. And it was incredible.
The uber-competitive, infinitely quirky and incredibly colourful world of roller derby hit Manchester at the weekend, with skaters from 38 countries competing for the sport's top prize.
But first things first: what is roller derby and how do you play?
It's a full-contact sport played on four-wheeled roller skates. Two teams of five (one jammer - the point scorer - and four blockers) skate anti-clockwise around the oval-shaped track.
The aim is to prevent the opposition's jammer completing laps of the track, while simultaneously helping your own point scorer to do so. Blockers are allowed to use shoulder, hip and full body contact to stop the jammer passing.
Got it? Good.
Here's what we learned during an eye-opening day at the Roller Derby World Cup.
It's for everyone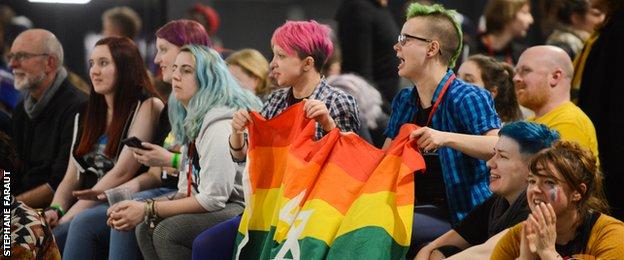 Now, we realise that sounds like a line from a marketing campaign, but it's not.
Just about everyone we spoke to at the World Cup told us: "It's sport for people who don't really do sport."
We learned many of the athletes now representing their countries on an international stage had only ever played team sports during school PE lessons before finding roller derby years later.
And skaters of all shapes, sizes, ethnicities, abilities, age and experience were involved.
"People feel they can be 100% themselves in this sport," one skater told us. "That's why you will notice people celebrate each other's differences and individuality here.
"There used to be a very dominant 'grungey look' within roller derby but that is fading. You can dress how you want."
She isn't lying. Everywhere you look you see colourful outfits. There seems to be a uniform of 'the most eccentric leggings you can find plus sequins'.
USA are the best, Australia are catching them, the French LOVE this sport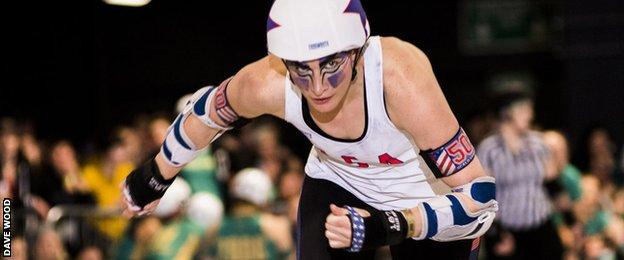 The semi-finals were contested by the 'big four' - the United States, Canada, Australia and England.
Team USA are well funded, well drilled, physically strong and tactically aggressive. They arrived in Manchester having won the previous two World Cups.
The Australians, who they faced in this year's final, were - even to an untrained eye - brilliant to watch. They had agile jammers, fluid skaters in the pack and strong blockers with incredible determination.
Both teams showed moments of brilliance, and the Aussies pushed their opponents all the way, but the Americans triumphed 187-146.
England, who took the silver medal in 2014, faced Canada in the third-place play-off, with England jammers Ella Storey, Delta Strike and Alex Wilde leading the way. It looked at one point as though they were going to produce a movie-script comeback, but they ran out of time and Canada took bronze with a 173-147 victory.
Team France brought with them over more than supporters. And they went BIG.
Dressed head to toe in the Tricolore and berets, the French fans were the loudest and the most passionate.
At the final whistle of their penultimate game - in which they narrowly beat Sweden - the French skaters were mobbed by their supporters, many of whom were in tears.
"We are very proud and we always win the battle of the fans," one of the French supporters told us.
"It's a very popular sport in France and always growing. Hopefully we can come back stronger to challenge the English!"
It's not as 'dangerous' as it used to be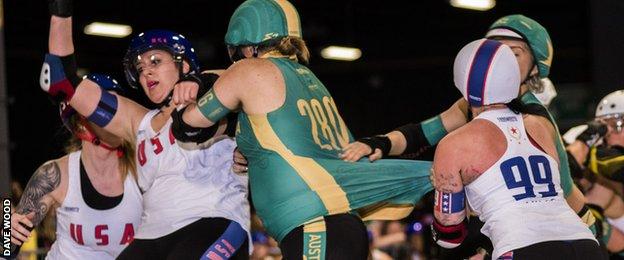 Past incarnations of roller derby looked a lot like WWE wrestling. The US television audiences of the 70s craved drama and perhaps a little violence - and this sport was willing to provide it.
But the play-acting element made way when it was reinvented in the early noughties and evolved into the sport you see today.
That said, the big hits are real. Skaters are allowed to use full body checks to block opponents, and we saw some pretty hard falls.
What we also saw was everyone getting straight back up, ready to stand their ground again when the jammer came back around.
A skater wearing a Team USA hoodie told us how attitudes have changed recently.
"In the last few years, people at the top of the sport are paying much more attention to cross-training and conditioning so their bodies are strong enough to withstand the hits. We are all treating ourselves more like hockey or soccer players.
"But, at the lower levels, people come into the sport who perhaps haven't played sports before, which is great. The downside to that is they may not have much co-ordination and are now choosing to do a sport on wheels so it can still be pretty dangerous!"
Another skater, who also has a business selling roller derby uniforms, said she didn't take up the sport until she was 32.
"A friend introduced me to it and I needed something to build on my fitness levels. I have now found myself having to go to the gym to keep fit enough to skate. But I have friends and relatives who don't really know what I do. I have a business in this industry and my family still ask: 'How's the roller-blading going?'"
This is a real community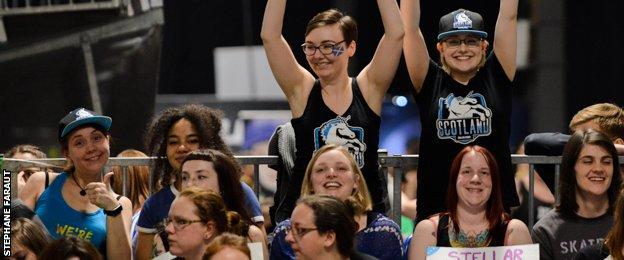 Throughout the day, the word "family" came up a lot.
Igor - a match official from South Africa, who we spoke to just before he officiated the bronze-medal tie between England and Canada - told us roller derby has taken him all over the world, but he never feels like a guest.
"Some describe it as a cult but it's definitely a family. You can pick me up and drop me amongst skaters or officials I have never met before anywhere in the world and I'm amongst friends instantly. It feels like an underground society and I am very lucky to be a part of it."
Igor even attributes roller derby to him overcoming a stammer.
"These people helped me grow in confidence and therefore overcome my speech impediment. I work for a publisher but many people say I would make a good teacher now."
At one point during a half-time break, there was a sudden, deafening cheer from the crowd. A man had led his girlfriend out to centre-track and proposed in front of the entire crowd. Luckily for him, she said yes.
We grabbed the groom-to-be, Eric van Maanen, moments later.
"We are both non-skating officials. We fell in love with roller derby together so it felt right to propose here at the biggest event in the world - and in front of my roller derby family."
There's that F-word again.
Fearleaders should be half-time entertainment for everything. Ever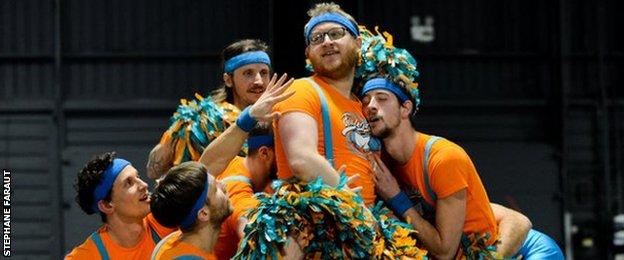 During the 15-minute break in the final, eight men - all seemingly in their mid-20s and wearing orange T-shirts and small blue Lycra hot pants (complete with braces) - took to the floor.
What happened next blew everyone away.
A seven-and-a-half-minute routine of slick choreography, genuinely terrifying stunts and impressive gymnastics set to crowd-pleasing 90s power ballads lifted the room to levels you only see at One Direction concerts.
They were the Fearleaders from Vienna, Austria.
Having spoken to them after their performance, we learned they met through roller derby. But it was when they were supporting the women's team that their cheerleading roles took on a whole new life.
They funded their trip to the World Cup themselves and it's safe to say they won themselves a whole legion of new fans - us included. Who needs the Super Bowl half-time show when you have The Fearleaders?
'Skaters gonna skate'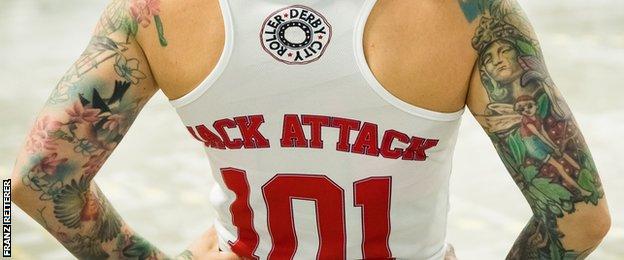 There were shirts on sale featuring slogans like 'Let the bodies hit the floor', 'Skate hard or go home' and 'Skaters gonna skate'.
Celebrating diversity and enjoying other cultures was a key philosophy on display at the Roller Derby World Cup. But the cult of roller derby is one thing these people all have in common.
Like we said, when you walk into the venue you felt like you'd stepped into a whole new world. And it was one everybody should experience at least once.