UK anti-doping chiefs should get 'unfettered access' says review
Last updated on .From the section Sport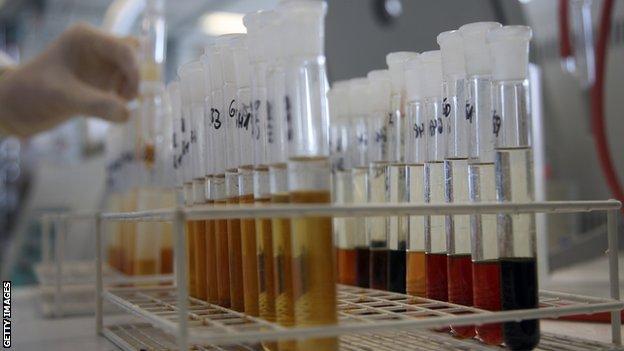 UK anti-doping chiefs have been asked by the government to draw up plans to give doping control officers "unfettered access" to carry out random tests on sportspeople in competition.
It is just one of the recommendations to come from a review into national anti-doping body UK Anti-Doping (Ukad).
Ukad will receive an extra £6.1m over two years to implement changes.
"We must do all we can to make sure sport is free from doping," said sports minister Tracey Crouch.
Crouch announced the review last year, saying Ukad needed to become "fit for purpose".
Ukad does have access to major sporting events but athletes are often warned they may be tested beforehand.
The review suggests Ukad should "consider submitting a framework to government and sports to allow doping control officers to have unfettered access to conduct random testing at competitions".
Other recommendations from the review include:
Ukad should "encourage greater collaboration from law enforcement agencies" and "ensure whistleblowers have confidence to come forward".

All publicly funded athletes - and their support personnel - should take part in annual anti-doping education programmes.

The national anti-doping policy should be revised by September 2018.

Ukad should set up a new group to "signpost" new trends in doping.

Ukad should draw up an international strategy "to help drive a global approach to innovation in anti-doping".
The extra £6.1m Ukad will receive over two years equates to a 50% budget increase.
"This £6m additional funding for Ukad will help us take the fight even harder to those trying to cheat through doping," Crouch added.
Ukad chair Trevor Pearce said the body was "delighted" with the budget increase and "look forward" to working with the government to implement the review findings.
Analysis
BBC sports editor Dan Roan
Ukad's entire annual budget may still be less than the salaries of some Premier League players, but this funding increase is a major boost after a tough period in which its limited power and resources have been exposed.
Last year, the organisation feared it could be made insolvent over a dispute with former world heavyweight champion Tyson Fury. And a long inquiry into the Team Sky jiffy-bag scandal ended in deadlock when Ukad failed to find any evidence, and said its investigation had been "hindered" by British Cycling.
Many critics will want Ukad's extra money to be accompanied by beefed-up investigative powers, but this at least seems to be an acknowledgement that the fight against cheating in sport has been badly under-funded.