Doping test sample bottles: Wada to investigate 'integrity issue'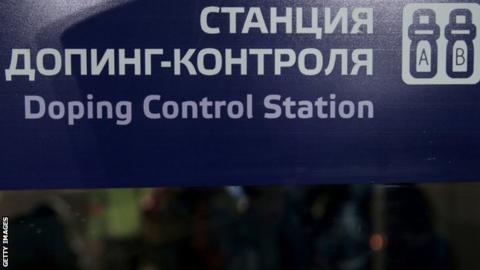 Bottles used to collect athlete samples for doping tests will be investigated by the World Anti-Doping Agency because of a "potential integrity issue".
The new generation bottles are susceptible to manual opening when frozen.
The bottles are used to collect, transport and store athletes' urine and blood samples.
Wada said it would "recommend appropriate measures" to "maintain the integrity" of the control process.
The bottles - introduced in September 2017 - are made by Swiss manufacturer Berlinger.
The issue of bottle security was raised after the McLaren report found samples from the Sochi 2014 Winter Olympics had been tampered with in what was described as Russia's state-sponsored doping programme.
Russia have subsequently been banned from the Winter Olympics in Pyeongchang - which start on 9 February - with athletes who have been cleared by the International Olympic Committee able to compete under a neutral flag as an 'Olympic Athlete from Russia'.
The ban has also been upheld by the International Paralympic Committee before March's Winter Paralympics, but Russian Para-athletes who can prove they are clean will be allowed to compete as neutrals.
"Wada acknowledges that this situation, if confirmed, will raise concerns and questions," Wada added in a statement.
"We wish to reassure athletes and other stakeholders that Wada is resolutely committed to following up with Berlinger until the matter is resolved, and that we will keep stakeholders apprised as the situation evolves."