Stadium for Cornwall: County will be 'a laughing stock' if no public funding is given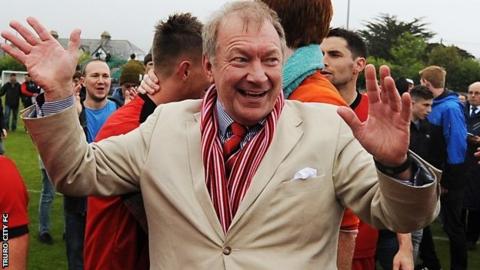 Truro City chairman Peter Masters says Cornwall will be a 'laughing stock' if £6m of public money is not found to fund the Stadium for Cornwall.
The arena on the outskirts of Truro will be home to the Cornish Pirates and Truro City, as well as being used by Truro and Penwith College.
The three parties have each pledged £2m towards the £12m project.
"I make no apologies for asking the taxpayers or the government for it, let's just get it built," Masters said.
"We are the laughing stock of Great Britain, we haven't got a decent stadium or sporting facility."
Masters' National League South club will leave their Treyew Road home this summer in order for a new retail development to be built on the site.
Should they gain promotion to the National League they plan to share with Torquay United next season as there is no facility suitable in the county.
Truro are currently in the play-off places and seven points off top spot with a game in hand.
May 2018 deadline for funding
Cornwall Council are considering whether to fund the project, which the clubs say must be in place by May 2018, to have the stadium built in time for the start of the 2019-20 season.
"We've got the Pirates who are in the Championship, we're in the National League South and on the edge of promotion," Masters told BBC Radio Cornwall.
"If we don't get this built we won't have Truro city playing at the level they are now and indeed the Pirates will not be playing at their level."
Cornish Pirates chairman Paul Durkin said the Stadium for Cornwall would benefit all the county in terms of jobs and the economy.
"It will have conferencing facilities, it will provide sport and health to Cornwall itself, so it's an awful lot more than having a rugby or football ground there," he said.
"It will attract business into Cornwall - there are no equivalent conferencing or events facilities within Cornwall at the present time that can sustain that."
The leader of Cornwall Council, Adam Paynter told BBC Radio Cornwall that they would decide in a few months whether or not to give any money to the project.
"It will come to cabinet at the end of March and on to a full council decision where all 23 councillors will have a chance to debate whether or not we put any money into the stadium project," he added.
Stadium for Cornwall timeline