Grigory Rodchenkov: Russian whistleblower suspected British cheats, says film director
By Dan Roan and Pat Nathanson
BBC Sport
Last updated on .From the section Sport
Russian whistleblower Grigory Rodchenkov suspected that "several" British athletes were doping, according to the man who helped him flee to the United States.
Bryan Fogel, the director of Icarus, the Oscar-nominated film which revealed the extent of Russia's state-sponsored conspiracy, told BBC Sport that his friend had mentioned competitors who he was "fairly positive" were cheating.
He said Rodchenkov, who is now in hiding, also criticised testing at the London 2012 Games, describing it as "a mess".
The evidence provided by Rodchenkov, the former head of Moscow's anti-doping laboratory, led to Russia being banned from the Winter Olympics, which begin on 9 February.
'Testing irregularities'
"I certainly wouldn't want to name names," said Fogel. "But I know in Grigory's mind there were many athletes just purely on the scientific level - not on the urine-swapping level - that he was fairly positive were doping, based on testing irregularities.
"And without getting into names, because that's not my place to do that, there were several British athletes that he brought up to me."
Fogel suggested that Rodchenkov had passed on the identities of those he suspected to governing bodies such as the World Anti-Doping Agency (Wada), the International Olympic Committee (IOC) and Fifa.
He said: "I believe he has. He has essentially been providing information and evidence for a year and a half now.
"My work with him ended in July 2016 when we brought him into protective custody, and he has continued to work with Wada, the IOC, foreseeably Fifa and what I imagine will be many other sporting organisations as the story continues to unfold, as his evidence has been irrefutable."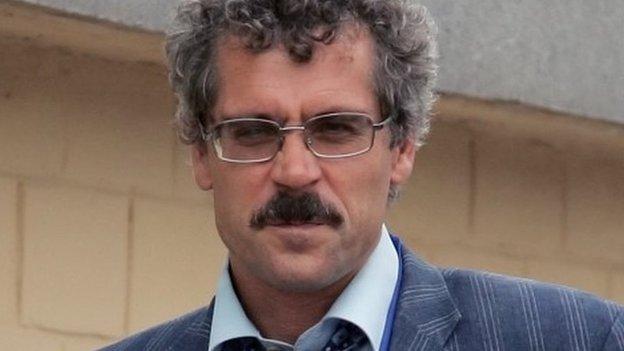 London 2012 testing 'a mess'
Fogel added: "He also specifically told me that the testing at the Olympic Games in London in 2012, in his opinion, was the single worst testing he had ever seen at any Olympic Games. He was at the laboratory and he told me first hand that it was a mess.
"So I think it's fair to assume that there are countless other athletes involved in this scandal outside of just Russian athletes."
There is no suggestion Rodchenkov was referring to British athletes who competed at London 2012.
Rodchenkov is preparing to give evidence at the hearings of 42 Russian athletes who have appealed against life bans at the Court of Arbitration for Sport.
At the time, athletes at London 2012 were told by the authorities that they would be confronted by the most advanced and comprehensive anti-doping procedures in Olympic history, and the testing was hailed a success.
However, more than 80 athletes who competed in London have since been disqualified after testing positive in the re-analysis of stored anti-doping samples, with 29 medals stripped.
Russia has been accused of sabotaging both London 2012 and the Sochi 2014 Winter Olympics.
"According to him [Rodchenkov], it had to do with the testing methodology," said Fogel.
"Apparently a lot of the equipment that was in the London laboratory was not the most state-of-the-art equipment. Apparently there were a lot of older testing machines.
"I don't know the technical details of it, but Grigory has certainly provided that information to authorities, but he said it was highly disorganised."
Ukad response
In a statement, the UK Anti-Doping Agency (Ukad) - which conducted testing at London 2012, said: "The anti-doping programme during an Olympic Games, including London 2012, is run by the International Olympic Committee together with the organizing committee.
"The programme is overseen and sanctioned by the World Anti-Doping Agency. The testing was reviewed after the London 2012 Games by Wada, which was supportive in its feedback.
"Ukad uses the laboratory services at King's College London for analysis of samples collected as part of its testing programme.
"The laboratory meets the highest standards of procedure and compliance, as set out by Wada in its International Standards for Laboratories (ISL) and the laboratory regularly undergoes independent spot checks as part of its Wada accreditation process.
"We regularly review our contract with them and are confident that they are one of the leaders in the anti-doping field.
"If there is specific intelligence relating to British athletes, then we would welcome that information being passed on in full to us."
The British Olympic Association (BOA) declined to comment.
Icarus II?
Fogel did not rule out a sequel to Icarus, saying that if he did make a follow-up, "it would be the ongoing story of what is at the end of Icarus".
He added: "The film was completed in June 2017 and over the past seven months the story has continued.
"It's continued to be in the news and there are many unresolved issues from it - not least of which is Russia competing in the 2018 Olympics, whether or not they're going to be marching in the closing ceremony in Russian uniforms with a Russian flag, and what the repercussions are for the upcoming World Cup.
"And then of course, there is the continuing fall-out of this story as Grigory has so much information that goes back for over a decade."