Law on coach-player sexual relationships to change - Tracey Crouch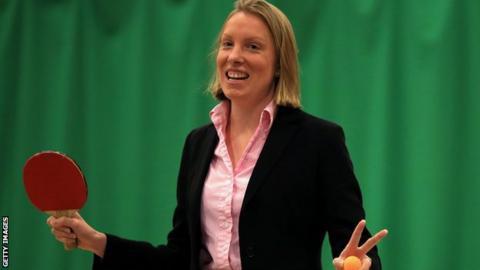 Sexual relationships between sports coaches and 16- and 17-year-olds in their care will be made illegal, says sports minister Tracey Crouch.
The age of consent in the UK is 16, although that is extended to 18 if a person holds a position of trust.
The law currently covers teachers, hospital workers and carers, but not sports coaches.
Crouch said she has "ministerial agreement" with the Ministry of Justice and Home Office to include coaches.
There have been calls for changes to the law since details emerged of historic child sex abuse in football.
'We support this proposed change'
Thursday 16 November marks a year to the day since former Crewe midfielder Andy Woodward spoke out for the first time about the abuse he faced during the 1980s.
Crouch referenced Woodward's bravery and said it had made the government and the entire sports sector take this issue "incredibly seriously".
The proposed change in the law involves amending the Sexual Offences Act (2003), but Crouch did not say how long it would take.
The Offside Trust, which supports those impacted by child sex abuse, tweeted: "We support this proposed change in law to better protect our children."
The National Society for the Prevention of Cruelty to Children (NSPCC) has campaigned to close what it called a "loophole" for adults working with children.