BBC Sport - Phil Neville and an England fan clash over the quality of the Three Lions' performance.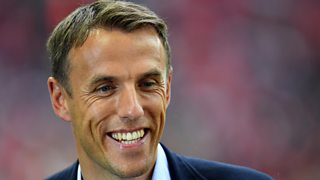 Fan criticism of England too much for Neville
Former England international Phil Neville defends the Three Lions after fan criticism following the goalless draw with Brazil at Wembley.
For the second time in five nights, Gareth Southgate's inexperienced squad held their own against one of the pre-tournament favourites for next summer's World Cup.
"I think we've shown over the last two games that, even though we've had six or seven dropouts of our best players, actually Gareth Southgate is making the right calls in terms of the system," said Neville.
Neville, who featured in the Euro 2000 and 2004 squads alongside Southgate, added: "I think he's found a system in the last two games that can take us to the World Cup with three central defenders who've performed really well and wing-backs who suit getting up and down the field."