Monarch Airlines collapse forces English Karate Federation to spend £27,000 on flights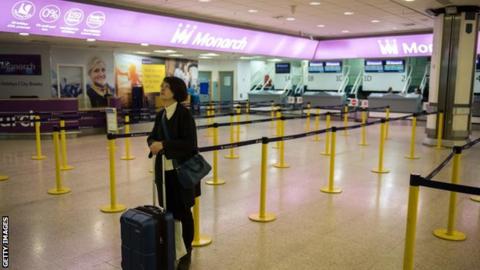 The English Karate Federation (EKF) has had to spend £27,310 extra on flights to the Junior World Championships since the collapse of Monarch Airlines.
The body had paid £18,700 for flights to Tenerife before the 26-29 October event, money it says "has been lost".
About 860,000 people lost bookings when Monarch collapsed. The Civil Aviation Authority sent more than 30 planes out to return 110,000 holidaymakers.
The EKF secured new flights after "a fraught few days of internet searches".
Having calculated the cost of cancelling its athletes' participation at an additional £45,000 - "way above the figure for rebooking" - it decided to spend the "astronomical figure" required.
A statement read: "A consequence of the Monarch Airlines collapse quickly led to the remaining airlines seeking to exploit the situation that we, like many others, have found themselves in with trying to find alternative travel.
"Many of the airlines have hiked their airfares for the same travel period to over £1,000 per passenger.
"Initially, the flights amounted to approximately £417 per person. The newly secured flights now amount to £607 per person, still a much lower rate than is being offered by many airlines.
"We believe that asking for the full additional costs from the athletes arising from this extraordinary situation would be harsh in these circumstances.
"Therefore, we have asked the athletes if they could make an additional payment of only £190, which is the difference between the original and new airfares.
"This was an unprecedented situation and we must thank those involved for turning this around. This has been an extremely exhausting and stressful time."