UK Sport: Champions League final in 2023 one of many 'hosting targets'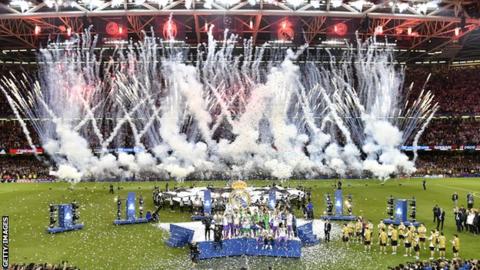 The Football Association could bid to host the Champions League final in 2023, according to confidential UK Sport documents obtained by the BBC.
The game is one of a number of "hosting targets" and a "strategic priority".
The staging of parts of the Tour de France in 2021 and athletics' World Championships in Birmingham "in 2027 or 2029", are also listed as ambitions.
UK Sport says it is "actively considering the feasibility of mega events in a number of other sports".
The funding agency has announced it is investing almost £30m over the next eight years "to maintain the country's position as a world-leading host of major sporting events".
Wembley Stadium hosted the Champions League final in 2011 and 2013, and will stage the semi-finals and final of Euro 2020.
The FA declined to comment, but has already announced plans to bid for the 2021 Uefa European Women's Championships, which is also listed in the documents as a "hosting target".
It is understood the FA would like to celebrate the 100th anniversary of Wembley in 2023 by hosting the final of Europe's premier club competition.
Since the London 2012 Olympic Games, Britain has hosted a series of major events, including the 2014 Commonwealth Games in Glasgow, the start of the 2014 Tour de France in Yorkshire, the rugby World Cup in 2015 and the World Athletics Championships and women's Cricket World Cup earlier this summer.
Last week it confirmed it was backing Birmingham's £750m bid to stage the Commonwealth Games in 2022.
If successful, BBC Sport understands the government is also now interested in exploring the possibility of the city's redeveloped Alexander Stadium hosting the IAAF World Athletics Championships in 2027 or 2029.
Other events already secured include the 2018 Women's Hockey World Cup, the 2018 Boccia World Championships, the 2019 Netball World Cup and the 2019 World Road Cycling Championships.
The 2019 Men's Cricket World Cup, 2019 Solheim Cup, and 2021 Rugby League World Cup will also be staged in Britain.
Projections of staged, secured and target events from UK Sport's 2017-2025 hosting programme include 7.2m spectators and an anticipated economic impact of more than £440m.
Minister for Sport Tracey Crouch said: "The UK has an incredible track record of hosting some of the biggest events in sport that help showcase the best of Britain to the world, make a significant contribution to the economy and encourage people to get involved in sport as volunteers and participants.
"We want to keep up our standing as a world leader in this area and UK Sport's ambitious events strategy over the next eight years will help us do just that."