Tim Kneale and Mark Cavendish among Isle of Man sports awards nominees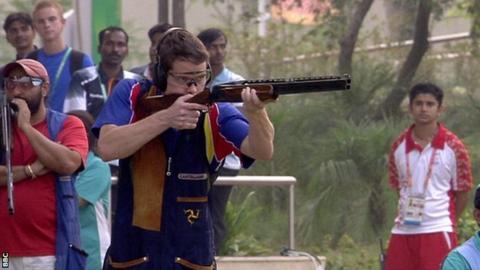 Shooter Tim Kneale is in contention to become Isle of Man sportsman of the year for the second year running, after being nominated for the award again.
Kneale narrowly missed out on an Olympic medal in Rio, after losing a bronze shoot-off against team-mate Steven Scott in the double trap.
Peter Kennaugh and Mark Cavendish are also shortlisted, alongside David Higgins, Danny McAnney and Tom Gandy.
Cavendish, who won silver in Rio, is also up for the ambassador award.
Fellow cyclists Anna Christian and Elizabeth Holden are among the six nominees for top sportswoman.
Hockey player Kate Richardson-Walsh OBE will be guest of honour at the awards ceremony in Douglas on 22 March.
IOM Sport's executive chairman, Gary Corkhill, said the quality of nominations has been "overwhelming."
He added: "The awards recognise the island's high-level performers and highlight their success on the world stage."
Olympic, World and Commonwealth medal winners are among those nominated across 11 different categories.
All nominees must be Manx-born, or have resided on the island for at least two years.
Nominations
Sportsman of the Year
Mark Cavendish (cycling)
Tom Gandy (golf)
David Higgins (motorsport)
Peter Kennaugh (cycling)
Tim Kneale (shooting)
Danny McCanney (enduro).
2016 Sportswoman of the Year
Charlotte Atkinson (swimming)
Kim Carney (hockey)
Anna Christian (cycling)
Elizabeth Holden (cycling)
Yasmin Ingham (equestrian)
Lesley Sleight (field archery).
Under 21 Sportsman
Matthew Bostock (cycling)
Alex Bregazzi (swimming)
Owen Dudley (cycling)
Ben Grainger (swimming)
Josh Hewett (high jump)
Glen Quayle (pole vault)
Kieran Tierney (football).
Under 21 Sportswoman
Charlotte Atkinson (swimming)
Ella Doherty (trials)
Elizabeth Holden (cycling)
Breeshey Jansen (golf)
Rebecca Storrie (triathlon)
Sophie Taylor (equestrian).
2016 Disability Sportsperson of the Year
Lawrence Dyer (athletics)
Matthew Elliott (archery)
Letisha Ellis (swimming)
Ben Grainger (swimming)
Sean Jackson (football)
Zoe Lambie (athletics).
2016 Team of the Year
Bacchanalians Men's A Hockey Team
IOM Swimming Arena League Team
Manx Sidecar Trials Team
SMP Partners Ballasalla A Netball Team
Team RL360 Cycling Team
Thomas Bostock & William Draper- Maddison Cycling Team
Vikings Ladies A Hockey Team.
2016 Administrator of the Year
Erica Bellhouse (cycling/gymnastics)
Amanda Butler (netball)
Mike Hewison (swimming)
Tony Mepham (football)
Roy Moore (motorcycling and golf)
Paul Phillips (cycling).
2016 IOM Ambassador
Mark Cavendish (cycling)
Cal Crutchlow (motorcycling)
Conor Cummins (motorcycling)
Mark Higgins (motorsport)
Tim Kneale (shooting)
Jonathan Rea (motorcycling).
2016 Coach of the Year
Chris Bass Snr (football)
Lee Holland (swimming)
Heather Melvin (swimming)
Raj Nandha (hockey)
Janet Norbury (special olympics)
Peter Roberts (boxing)
2016 Veteran Sportsperson of the Year
Mike Garrett (athletics)
Richard Gerrard (race walking)
Gail Griffiths (athletics)
Juan Kinley (triathlon)
Gary Kirby (mountain biking)
Lesley Sleight (field archery).
2016 Lifetime Achievement
The recipient of this award is selected by the Sports Awards committee.