Russian doping: Seven athletes banned after positive drugs tests, says Rusada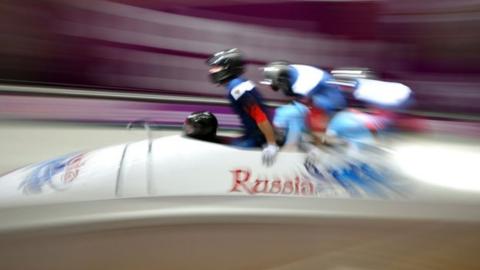 Seven Russian athletes have been banned from competing following positive drugs tests, the country's anti-doping agency Rusada has announced.
Dmitry Trunenkov, an Olympic bobsleigh champion from the 2014 Sochi Games, has been banned for four years from April 2016, meaning he keeps his gold medal.
"We're very disappointed," ex team-mate Alexander Zubkov told news agency Tass.
Walker Alexander Yargunkin was banned for four years, having tested positive before the 2015 World Championships.
In December, the findings from a report into doping in sport stated that more than 1,000 Russians - including Olympic medallists - benefited from a state-sponsored doping programme between 2011 and 2015.
Russians banned, as announced by Rusada on 31 January 2017
Wrestling: Turpal Khatuev (two years); Adlan Minapov (four years, both backdated from 3 November 2015)
Bobsleigh: Dmitry Trunenkov (four years, backdated from 19 April 2016)
Rowing: Yuliya Solomentseva (one year, backdated from 30 November 2016)
Weightlifting: Viktoriya Kosenkova (four years, backdated from 26 February 2015)
Athletics: German Komarov (four years, backdated from 25 June 2015); Alexander Yargunkin (four years, backdated from 26 August 2015)