Gossip: Aubameyang, Toure, Zaza, Schweinsteiger, Moyes
Last updated on .From the section Gossip

For the latest rumours, gossip and debate, check out our Sportsday rolling news service every weekday, and for a list of all the completed deals, see our transfers page.
Manchester City midfielder Yaya Toure has asked his agent to say sorry to City manager Pep Guardiola. After Dimitri Seluk criticised Guardiola's decision to leave the 33-year-old out of his side, the Spaniard said he would not be selected again until Seluk apologised. (Daily Mirror)
England and Scotland are unlikely to be punished with a points deduction if they defy Fifa and wear armbands with poppies in their World Cup qualifier at Wembley on Armistice Day. (Independent)
Manchester United are prepared to release 32-year-old midfielder Bastian Schweinsteiger with a £10m severance deal. (Sun)
Swansea boss Bob Bradley wants to bring 35-year-old Bulgarian striker Dimitar Berbatov, who is a free agent, back to the Premier League. (Daily Express)
Napoli are considering making an offer for 25-year-old striker Simone Zaza, whose transfer from Juventus to West Ham will be made permanent if he plays 10 matches for the Hammers. Zaza has made nine appearances in all competitions for West Ham, seven in the Premier League. (Il Mattino - in Italian)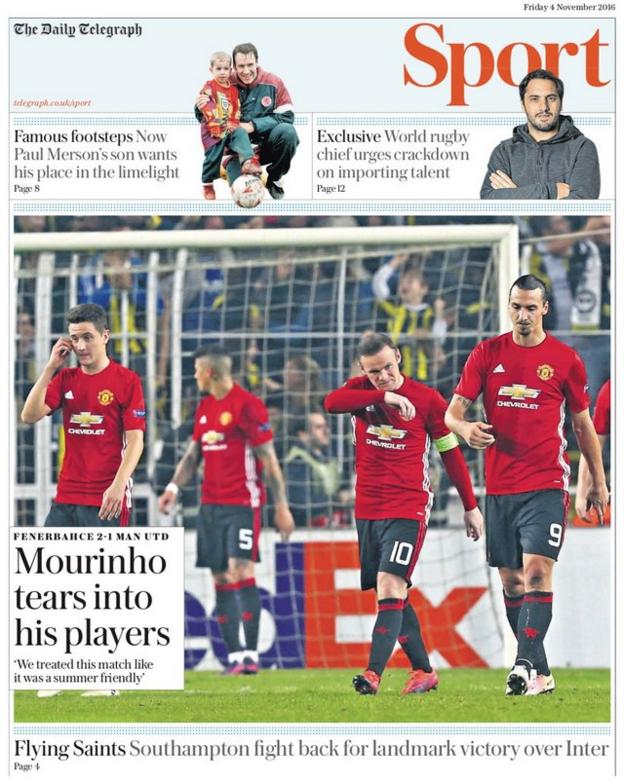 Borussia Dortmund left striker Pierre-Emerick Aubameyang out of Wednesday's Champions League victory over Sporting Lisbon because the 27-year-old returned late from a party in Italy. (Bild - in German)
Former Chelsea interim manager Guus Hiddink could take over at Inter Milan following the sacking of Frank de Boer.(Daily Mail)
Chelsea's 21-year-old forward Bertrand Traore has questioned the Blues' decision to send him on loan to Ajax this season.(Evening Standard)
Queens Park Rangers are considering replacing their manager Jimmy Floyd Hasselbaink with the former Aston Villa boss Tim Sherwood.(Daily Mail)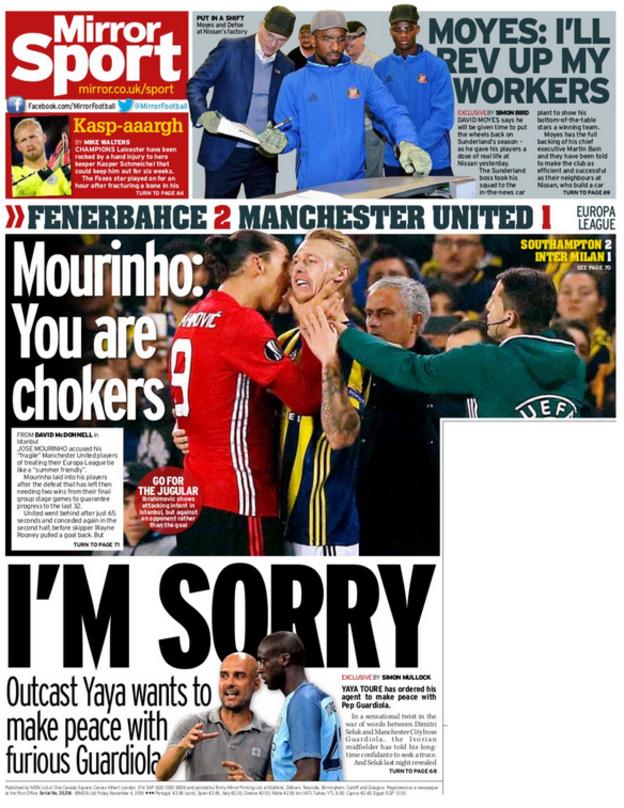 Sunderland manager David Moyes took his players on a trip to a local car factory in the hope of turning their poor form around. (Daily Mirror)
Burnley defender Michael Keane is set to keep his place in Gareth Southgate's England squad to face Scotland on 11 November. (Daily Star)
Liverpool are set to appoint technical director Michael Edwards as their new sporting director. (Liverpool Echo)
Best of social media
Arsenal midfielder Jack Wilshere is clearly enjoying his loan move to Bournemouth. Who wouldn't love a bit of paddle surfing on the south coast? "Afternoon spent on the water, and nope I didn't get injured," he posted on Instagram.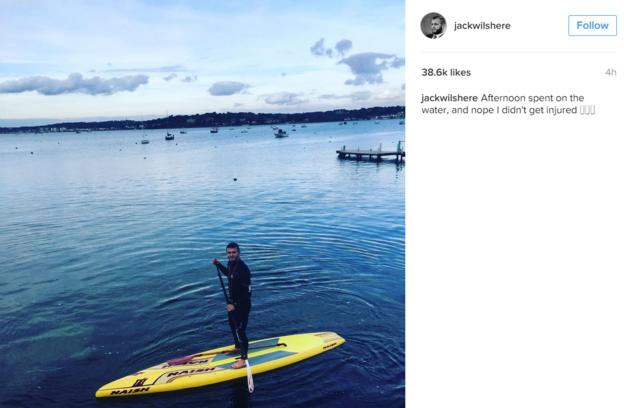 Liverpool striker Danny Ings was ruled out for the rest of the season on Wednesday, after suffering a knee injury. The 24-year-old posted on Twitter: "Blown away by all the messages, means the world."

Saido Berahino has been left out of the West Brom squad for their past three matches. Manager Tony Pulis put the 23-year-old on a weight-loss training plan to get him fit. Will the striker return for Saturday's game at Leicester? "Concentrating on training as hard as I can," he tweeted.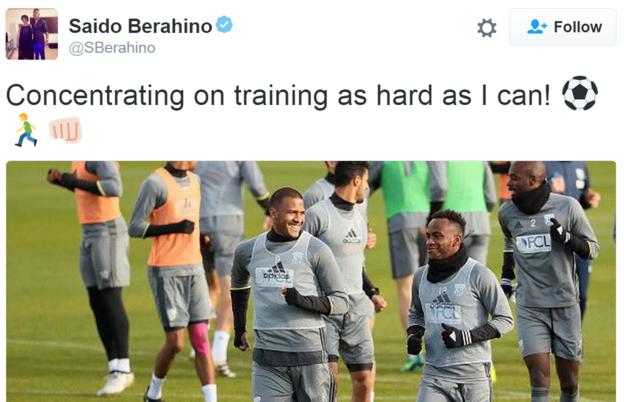 And finally...
Marseille's 18-year-old striker Aaron Leya Iseka will miss his side's match at Montpellier on Friday, because while his team-mates met at the training ground to take a bus, he went to the airport instead. (L'Equipe - in French)