Dr Mark Bonar: Ukad 'missed opportunities' over doping allegations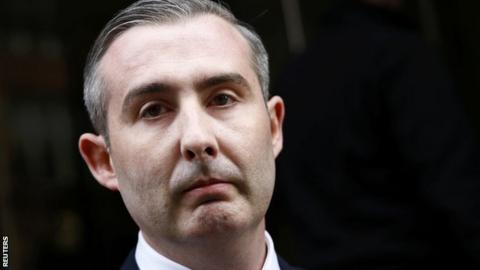 UK Anti-Doping missed opportunities to investigate claims a doctor prescribed banned substances to athletes, an inquiry has found.
Ukad has been criticised for not pursuing claims against Dr Mark Bonar, and for not contacting his professional body, the General Medical Council.
Bonar was recorded by the Sunday Times allegedly claiming to have prescribed banned substances to 150 athletes, including footballers.
He denies any wrongdoing.
Former amateur cyclist and drugs cheat Dan Stevens turned whistleblower after being banned for two years for breaching anti-doping rules in 2014.
Hoping to have his suspension reduced, he contacted Ukad with evidence he claimed indicated Bonar had allegedly prescribed him performance-enhancing drugs.
An independent review, led by former police assistant chief constable Andy Ward and published on Monday, said:
There was "confusion and lack of clarity" on how to manage a source looking to reduce his doping ban by whistleblowing
As a "minimum standard", Ukad should have made "a simple check" with the GMC
It was "difficult to understand" why there was no contact with the GMC when it was suggested seven times to staff
The decision not to reduce Stevens' ban was "subjective" and "harsh"
The report said: "It is clear to us that opportunities to gather intelligence, secure evidence, and investigate Bonar have been missed."
It added: "All members of Ukad have displayed complete transparency and are quite clearly motivated to support the organisation and take clear pride in their role of protecting clean sport."
Ukad chair David Kenworthy said the case had been "challenging and complex" and the body "fully accepts mistakes were made and lessons must be learnt".
He added: "All the recommendations made by the independent review have been accepted; some have already been implemented and there is a timeline for implementing the others."
Following Stevens' evidence, Ukad began an investigation in 2014, but decided Bonar was outside its jurisdiction as he was not governed by a sport. It did not contact the doctor or the GMC.
Stevens contacted the Sunday Times with his allegations and said Ukad had "absolutely no reason to not investigate" his warnings and accused it of a "catastrophic failure".
Bonar said he treated the athletes for medical reasons and not to enhance their performance.