Island Games: Football and cycling set to return for Guernsey 2021
By Brent Pilnick
BBC Sport
Last updated on .From the section Sport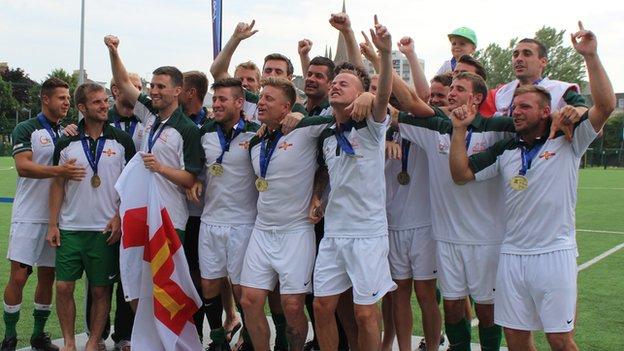 Football, golf and cycling are set to be part of the Island Games in 2021 if Guernsey is confirmed as host of the event for the third time.
It will see all three sports returning after being left out of the list for the 2019 Games in Gibraltar.
But volleyball, which was also dropped for 2019, will not be reinstated.
Squash, judo and gymnastics also miss out as Guernsey bid to host the Games for the first time since 2003, having originally done so in 1987.
Indoor bowls will return for the first time since Shetland in 2005 but ten-pin bowling, included for 2019, would not be part of the Guernsey programme.
Gotland will host the next Island Games in 2017, followed by Gibraltar, who stepped in for 2019 following Menorca's decision to withdraw from staging the event.
Sports proposed for the 2021 Island Games

Archery

Golf

Athletics

Sailing inc Sailboarding

Badminton

Shooting

Basketball

Swimming

Bowls (indoor)

Table Tennis

Cycling

Tennis

Football

Triathlon
The decision to axe football and cycling, two of the most popular spectator sports, along with volleyball for 2019 - all of which had been included in every Island Games - caused controversy.
Guernsey are currently the only island bidding to host the event in 2021 and had a successful inspection earlier this year from the International Island Games Association (IIGA).
"When the IIGA came over they looked at all 18 facilities and we got the green light for all 18," said Guernsey Island Games Association chairman Brian Allen.
"But the constitution of the IIGA means you can only have a maximum of 14 sports and it leaves any island to say to four sports 'sorry, you're not going to be in'," he told BBC Radio Guernsey.
And because of the limited number of hotel beds in Guernsey, one team sport had to be axed in order that all athletes could be accommodated:
"We were concerned that these Games would get too big," Allen said.
"We were looking to drop one of the team sports and with football being so strong and basketball being on a high in Guernsey, it fell to volleyball and I'm afraid that they can't be included.

"We've struggled with this decision and we feel sorry for those sports, but we'll be doing all we can to help those sports and possibly put on an alternative function for them."
Guernsey's bowls team reacted with joy at the news that they would be at an Island Games for the first time in 16 years:
"As team manager of the 2005 Shetland team that returned to Guernsey with seven golds and one silver, it's great that we have been included again after that 16-year gap," said Garry Collins, the bowls delegate to the Guernsey Island Games Association council
"It's great for the sport and it can be used to encourage our younger members to perhaps focus on a place in the 2021 team.
"The GIGA executive clearly had a difficult job and it's a shame that Guernsey cannot host all 18 sports, but four to six sports are disappointed each Games, as the minimum is 12 sports and bowls has been excluded far too often."
Jersey's director of squash, Nick Taylor, had a less positive view.
"It's disappointing for us as we'll be back in 2019 and miss out in 2021," he told BBC Sport.
"Who knows where it'll be after 2021 so it's disappointment all-round for the Channel Island squash community.
"And for the other islands as well, like Bermuda and Cayman Islands, they won't have another opportunity to come and compete against other strong opposition."