Essendon FC: 34 Australian rules players banned for doping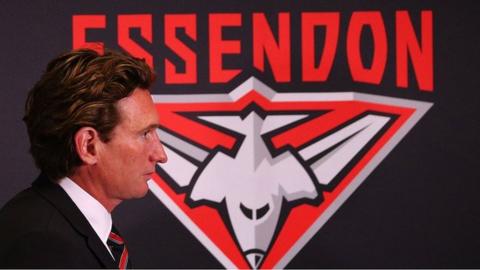 More than 30 players associated with Australian rules team Essendon FC have been banned after being injected with a drug to improve performance.
The Court of Arbitration for Sport (Cas) has upheld a World Anti-Doping Agency (Wada) appeal after 34 past and present players were initially cleared.
The players, including 12 currently registered with Essendon, are suspended for the 2016 season.
The players were injected with banned peptide Thymosin Beta 4 (TB-4).
'A miscarriage of justice'
The ruling was welcomed by the Australian Sports Anti-Doping Authority (Asada), which said the team programme was "designed to give Essendon an unfair advantage in the 2012 season".
Asada chief executive Ben McDevitt said: "This unfortunate episode has chronicled the most devastating self-inflicted injury by a sporting club in Australian history.
"There were very little grounds for the players to claim they were at no significant fault."
Former Essendon coach James Hird, who was banned for 12 months in 2013 and resigned in August, said: "I am shocked by this decision.
"I firmly believe the players do not deserve this finding. This is a miscarriage of justice for 34 young men."
'Digesting the decision'
The long-running case began with a 2012 investigation into the club's player supplements and sports science programme.
The team's sports scientist, Stephen Dank, was found to have administered the banned substance, which promotes muscle growth.
He says he is still appealing against the verdict.
Cas said that Dank "devised and implemented" the programme, which was designed to "improve players' recovery from intense workouts and thereby allow them to become bigger and stronger".
Essendon chairman Lindsay Tanner said the club was "currently digesting the decision" and would provide a further response shortly.
'At worst, they were complicit'
The Cas panel ruled that the players, including skipper Jobe Watson, Dyson Heppell and Michael Hurley, were "significantly at fault".
Seventeen of the 34 have since retired or been delisted. The Australian rules season starts in March.
"Of 30 Asada testing missions during the period in question, none of the 18 players tested declared the injections, despite being asked each time whether they had taken any supplements," McDevitt added.
"At best, the players did not ask the questions they should have. At worst, they were complicit in a culture of secrecy and concealment."
Wada director general David Howman said the decision "represents justice for clean athletes in Australia and worldwide".
One of those banned, Nathan Lovett-Murray, said: "We will appeal it if we can. If not, no footy or coaching for myself this year."
'Extraordinarily difficult period'
AFL chief executive Gillon McLachlan said his body accepted the decision but was surprised by its severity.
He told reporters in Melbourne that Essendon would be afforded special concessions to recruit replacement players and "get through this extraordinarily difficult period."
He also confirmed that the Brownlow Medal won by Essendon captain Jobe Watson in 2012 would be reviewed.
The Brownlow Medal is the game's annual most valuable player award.