Holly Holm: UFC star celebrates homecoming in Albuquerque
Last updated on .From the section Sport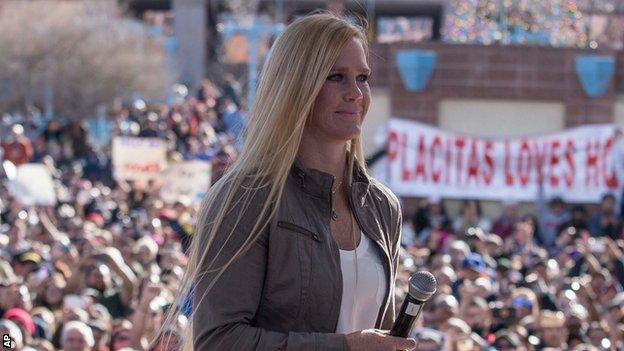 New UFC bantamweight champion Holly Holm had a day named after her to honour her stunning victory over Ronda Rousey at a parade in her native Albuquerque, New Mexico.
The new champion was emotional during a presentation on Sunday - which 20,000 people attended - after admitting she had left her speech at home.
Holm, known as the Preacher's Daughter, thanked her home town, with New Mexico Governor Susana Martinez declaring 6 December 'Holly Holm Day'.
"I see all the signs and the happy faces. You here, Albuquerque, made this possible," said multiple boxing world champion Holm, whose MMA record now stands at 10-0.
"My whole career started right here. It wasn't just my team that helped me believe in myself, but it was the support of Albuquerque and I just thank you so much.
"I'm not stopping now. I want to keep taking it to the top."