Island Games 2015: Manx police inspector named flag bearer
Last updated on .From the section Sport
A Manx police inspector, who will be competing at his eighth Island Games, will be the Isle of Man's flag bearer for next month's event in Jersey.
Juan Kinley made his debut at the inaugural games on the Isle of Man in 1985 and has competed in badminton and triathlon, winning three bronze medals.
Kinley's two daughters Laura and Amy have also been named in the Isle of Man's .
The Isle of Man topped the medal tally at the last event in Bermuda.
It was on the British overseas territory in the North Atlantic that Kinley and Laura became the first father and daughter to win medals at the same games. Swimmer Laura went on to win three silver medals in the pool on her debut.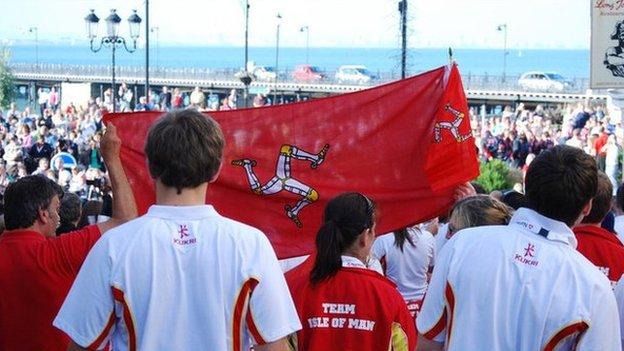 Kinley said he was "honoured" to carry the Manx flag in the parade of competitors at the opening ceremony on 27 June at Howard Davis Park. Tickets for the ceremony sold out in just 14 minutes.
Meanwhile, the youngest member of the team, swimmer Emma Hodgson, 13, will be the island's water carrier.
The water ceremony is a unique tradition signifying the importance water plays in island life.
This year around 3,500 athletes from 24 Islands are expected to take part.