Michael Bisping: UFC superstar made in Britain
By Chris Osborne
BBC Sport
Last updated on .From the section Sport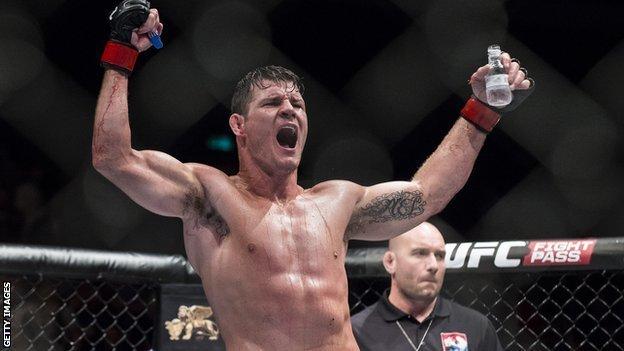 Michael Bisping used to make a living plastering walls. Now his job is to fight inside eight of them.
A world-renowned athlete in mixed martial arts - a sport contested in a fenced ring and made famous by the Ultimate Fighting Championship (UFC) - the Englishman has been a plasterer, postman, tiler and DJ.
But after years of barely being able to pay his bills, Bisping can now make hundreds of thousands of dollars in one night inside the UFC's octagon.
Just don't call it a cage.
"You'll never hear me call myself a cage fighter. I detest the term. I'm a mixed martial artist - I'm not a thug. This is a lifetime's work," Bisping, 35, tells BBC Sport.
"I think people use that expression to have negative connotations.
"Yes, to the layman, we fight in a cage. We call it an octagon and it's there as a safety measure to stop people falling through the ropes."

A decade ago, Bisping committed fully to the pursuit of an MMA career. Initially it was a financial nightmare - until he hit the big league.
"Once I started fighting in UFC, things took a big U-turn," he says. "After my second fight I came home and paid my mortgage off."
Born to an English father and Northern Irish mother at an army base in Cyprus, Bisping grew up in Clitheroe, Lancashire, and is now a bona fide American sporting star.
MMA, particularly the brand played out under the bright lights of the UFC, is a phenomenon Stateside, and Bisping is one of its major players.
In a sport based around kickboxing, karate, jujitsu, wrestling and other combat styles, the concept is simple: knock out your opponent or make them submit.
Bisping, married with two children and based in Orange County, is a top-10 middleweight and one of the UFC's highest earners.
In April last year, he reportedly took home $425,000 (£265,000) after winning a fight in front of a New Jersey crowd of 15,000 and more than half a million pay-per-view subscribers.
The fire that led to such earning power was lit as an eight-year-old, with a trip to a martial arts gym with his brother.
"I was fascinated," he says. "It became a bit of an obsession.
Bisping's UFC record

Wins

14 (Eight KO)

Losses
Six (One KO)
"I was a big fan of martial arts movies - Bruce Lee in particular, as cringeworthy as it is. Jean-Claude van Damme was a big inspiration as well - it's a little embarrassing.
"In my teenage years I started kickboxing, then did a little boxing. When the UFC and MMA exploded in the early 2000s in the USA and Japan, I saw a way to make money and a career.
"I took a gamble, it paid off and it was the best thing I ever did."
Success did not come overnight. In fact, Bisping almost got stuck in a rut making ends meet with a series of labouring jobs.
Even when he was working his way through the British MMA scene, in which he made his professional debut in 2004, the cheques were small and the effort tireless.
"I had quit work, moved to Nottingham, trained Monday to Friday and came home to play dad at weekends," he says.
"I had held titles in all the major UK organisations, but we were struggling to make ends meet. There were times you don't have a fight lined up and the bills are stacking up.
"You're fighting in low-level organisations for very little money - there were many times I considered throwing the towel in and thought about going back to having a regular job."
His big break came in 2006 with victory in Ultimate Fighter, a reality programme designed to find new talent.

Eight years on, his UFC record stands at 14 wins (eight by KO) and six defeats (one by KO).
This weekend could bring a career-defining moment. After three failed attempts at becoming the number one contender for the middleweight title, he takes on American Luke Rockhold in Sydney, with an expected championship shot on the line.
He is already Britain's first UFC headliner, and becoming his country's first UFC champion would go some way to lifting the profile of the sport in the UK.
While MMA has been absorbed into mainstream sporting culture in the USA, it still grasps for legitimacy in Britain.
That is partly down to its ongoing "cage fighting" perception - less art and more barbarism, according to some.
"In the USA it's shown on Fox Sports. So you'll be watching baseball or basketball or the NFL and after that it will switch to UFC. It's presented with the professionalism that the Premier League is presented with in the UK," says Bisping.
"It still has a way to go in the UK, but it's getting there. The UFC are doing the right thing."
Bisping v Rockhold: Tale of the tape

26-6

Win-loss record (including non-UFC fights)

12-2

35
Age
30

6ft 2in (188cm)

Height

6ft 3in (191cm)

13st 3lb (83.9kg)
Weight
13st 3lb (83.9kg)
There is a sense that America is still yet to make up its mind on Bisping. Equally liked and disliked for his smash-mouth, honest approach, he shatters through the glitz and gloss of the UFC's showbiz approach with a quintessentially British vocabulary and grittiness.
"The bookies can kiss my backside," he gleefully explains when asked about being rated as an outsider for Saturday's fight.
Should he fail against 30-year-old Californian Rockhold - beaten just twice in his career - the knives will be out, particularly from those who believe Bisping's talent does not match his ranking or the size of his pay cheques.
But one thing is certain. Bisping is a showman as much as a salesman - something his fiery feud with Rockhold is proving.
"In this sport there are a lot of gentleman. But there is always going to be the odd jerk here or there," he says of his opponent.
"I'm not going out there to settle a grudge or seething with anger. I'm going out there to be successful.
"If along the way I get to punch Luke Rockhold in the face, then my job is even better."