Tour de France 2014: Geraint Thomas on dealing with heat

By Geraint Thomas
Team Sky's five-time Tour de France rider
Last updated on .From the section Sport114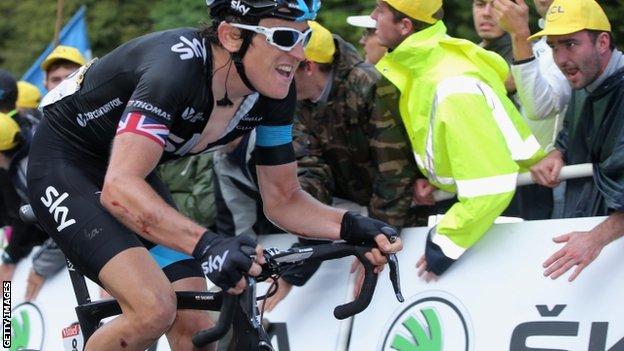 The Tour de France riders are enjoying a second rest day before the race enters its third and final week, which features three mountainous stages in the Pyrenees and the traditional sprint finish in Paris.
Four British riders started the race: defending champion Chris Froome and his Team Sky team-mate Geraint Thomas, Omega Pharma - Quick-Step sprinter Mark Cavendish, who has won 25 Tour stages, and 21-year-old debutant Simon Yates.
By the end of stage five, Froome and Cavendish had crashed out, while Yates, who rides for Orica GreenEdge was withdrawn after stage 15, leaving Thomas to fly the British flag.
In his third Tour column for BBC Sport, Thomas tells us why he prefers the rain to the sun, and sets out his race ambitions for the final week
It has been another tough week on the Tour but two successive days in the Alps encapsulated my highs and lows in the race.
We had a big setback on Friday's first day in the mountains when Richie Porte, who had taken over as Team Sky leader after Chris Froome crashed out on stage five, struggled on the final climb to Chamrousse, ending our hopes of winning the race.
It was an incredibly hot day, with temperatures in excess of 35C, and I thought my head was going to explode when I reached the bottom of the final climb.
I had been drinking around three bottles of fluid every hour - 1.5 litres - to keep myself hydrated and to ride at that threshold. I've got more used to racing in the heat through competing at the Tour Down Under in Australia for the last few years, but it did get to me on Friday and I prefer riding in cooler weather and rain.
I was only aware that Richie was struggling when I went round a corner and saw the team car and I thought uh-oh, what's going on here? And then I saw Richie and I thought, that's not ideal.
I had been unaware of his struggles on the climb because as soon as I dropped out of the peloton, I turned my race radio off.
It's not an unusual thing to do. I just wanted a bit of peace for the final climb, because once the leaders get off up the mountain you can get a lot of crackling noises on the radio and you don't need that when you're toiling up a steep gradient.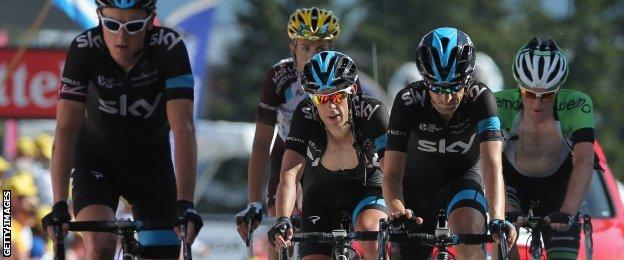 But then getting in the break on Saturday's second day in the Alps was brilliant. I was getting a good buzz off all the British fans out on the road cheering me on and I even heard a 'boyo' at one point. It almost felt like we were back in Yorkshire.
I didn't feel great but I wanted to get in the break and help my team-mate Mikel Nieve because we thought he had a decent chance of winning the stage.
It was a big break of 17 riders but nobody really wanted to do much work on the front to try to build an advantage over the peloton, trying to save themselves for the final ascent to Risoul, so I had to take it by the scruff of the neck because I didn't want to be caught after putting in so much work to break clear.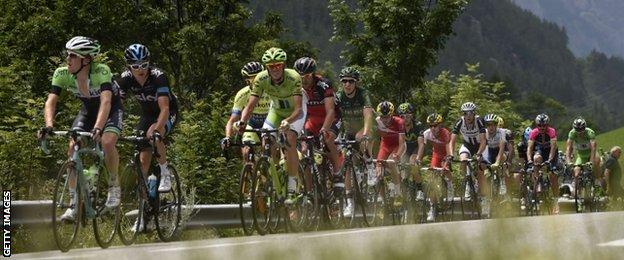 I made a big effort to maintain the gap on the climb up the Col d'Izoard. Joaquim Rodriguez came past me near the top of the mountain to take the Souvenir Henri Desgrange (named after the Tour de France founder) for being the first man to reach the highest point on this year's race, at 2,360m.
I wasn't bothered by that though because he was chasing King of the Mountain points and I'm not. He would have been annoyed with me if I had put up a fight.
Simon Yates was also in the break although I didn't get too much time to speak to him because I was more concerned about trying to set Mikel up to win the stage.
I did ask him how he was though and told him not to do too much work. He's only 21 and a talented guy and it's exciting for British cycling to see him up there in his second break on his first Tour.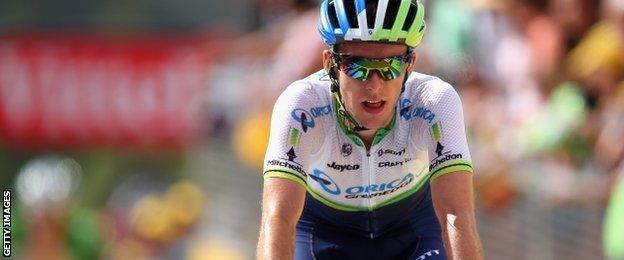 I remember riding my first Tour in 2007 and I was hanging out the back of the peloton most of the race with my track fat on.
We've had our setbacks with Richie and Froomie but we're all trying to stay positive and pick the stages where we can go on the attack.
Vincenzo Nibali looks untouchable as race leader but as we've seen with Froomie and Alberto Contador crashing out, anything can happen in this race.
There are three more big days in the Pyrenees for us to get stuck in and race hard. Tuesday's stage 16 looks good and all I have to do is get in the break.
What to expect on stage 16
"This is another stage that has the potential for the breakaway to succeed. There is a 20km descent to the finish where we drop almost 1,000m in altitude so it will be a fast pace. It's pretty much man v man on a descent, as fast as you feel confident going. If it is was long and a bit flatter you could get help from your team-mates but I've been to see this one and it's steep and technical so you're on your own."
Read Geraint Thomas's stage-by-stage guide
I say "all I have to do", but that is a massive challenge in itself because it is straight after the rest day and a lot of riders will be looking at getting in the break. There is also a big mountain to get over at the end, which means some of the climbers will be interested.
I'm pretty tired, having worked hard on a lot of stages, whereas someone like Thomas Voeckler may have been saving himself for one big day.
There is also the individual time trial on Saturday's penultimate stage, which might suit me. I will have to see how I am feeling when I get there but I will probably go full gas.
It will be good training for me to see how I cope after 19 days of hard racing, to see if I am able to give it a big effort for what will be a little over an hour of racing.
We are in Carcassone for the rest day. Sunday was a long day with a two-hour ride on the bus to the start, a 222km race and then another 200km on the bus to the hotel so I'm really looking forward to chilling out.
The team bus can be buzzing - if you've had a stage win, or if anyone's had too many caffeine gels - but often it's quiet and I'll catch up with my girlfriend on the phone or get on the internet, trying to switch off mentally and avoid talking about the race. I'm into the The Wire at the moment so I watched a couple of episodes of that.
Thanks for all your support on the roadside so far in the Tour. Give us a cheer if you're out on the Pyrenees mountains over the next few days because it does give me a lift.
Geraint Thomas was speaking to BBC Sport's Peter Scrivener. You can read live text commentary of each stage on the BBC Sport website with live commentary from BBC Radio 5 live Sports Extra.