Minor Counties: Parker takes over from Oliver as Shropshire captain
Last updated on .From the section Cricket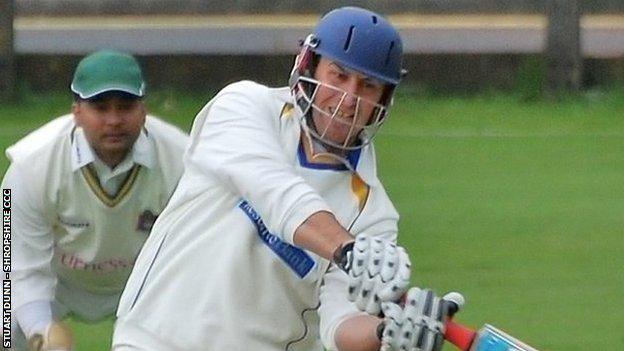 Shropshire have appointed wicketkeeper Anthony Parker as their new captain after Richard Oliver agreed a year-and-a-half deal with Worcestershire.
Parker 31, will lead the team for the first time in Shropshire's home Minor Counties Championship game against Herefordshire, starting on Sunday.
The Shrewsbury player has made 30 Championship appearances since his Shropshire debut in 2005.
He was a member of the team that won the MCCA Knockout Trophy in 2010.
"Anthony was one of the players considered for the captaincy when Richard Oliver was appointed so we have every confidence in his suitability for the role," said Shropshire chairman of selectors Brian Foxall.
The county are hoping to bounce back from a thumping eight-wicket defeat in their opening Championship fixture of the season against Wales at Pontarddulais last week.
Parker will be back on familiar soil at Priorslee Road, having played his club cricket at Shifnal for 16 years before joining Shrewsbury at the start of last season.
Shropshire have made four changes to the team so well beaten by Wales.
Apart from Oliver, fellow opener Mohammed Ishtiak and middle-order batsman Omar Ali and left-arm paceman Jack Edwards all drop out.
Shrewsbury leg-spinner Elliot Green is recalled and there are county debuts for Wolverhampton batsman Ross Aucott, Oswestry Joe Carrasco and Adrian Evans, from Quatt.
Herefordshire make three changes from the side who narrowly failed to beat Cheshire at Colwall in their opening game, being denied by the last pair.
Brad Wadlan returns to replace Ben Stebbings, while Joe Dodd takes over as wicketkeeper from Luke Padgett and Danny Cox comes in for paceman Callum Stewart.
Shropshire: A J Parker (Shrewsbury) capt/wk, R Aucott (Wolverhampton), J Carrasco (Oswestry), A Evans (Quatt), E J Green (Shrewsbury), S Griffiths (Shrewsbury), J T Ralph (Bridgnorth), G S Randhawa (Ossett), N C Saker (Reigate Priory), B W Sanderson (Rotherham Town), T G Weston (Bridgnorth), 12th man: T Shaw (Shifnal).
Herefordshire: D J R Exall capt, N Patel, L Gwynne, M P O'Shea, B L Wadlan, D J M Cox, D G Ball, J M H Dodd wk, D O Conway, N J Powell, J P McIlroy. 12th man: W J M Barrett.