David Coleman: Coe and Foster hail 'greatest ever' commentator
Last updated on .From the section Sport
Athletics "lost its greatest commentator" when David Coleman died on Saturday aged 87, according to double Olympic champion Lord Coe.
Coleman, who broadcast for the BBC from 1954 to 2000, covering 11 Olympic Games and six football World Cups, passed away following a short illness.
"He was so incomparably better than anyone else who did it," said Coe.
BBC athletics commentator Brendan Foster called him "the greatest sports broadcaster that ever lived".
And BBC Match of the Day presenter Gary Lineker said Coleman was "a giant of sports broadcasting", describing him as "brilliant, gifted, precise and concise".
After a spell as a local newspaper editor, Coleman, an accomplished amateur runner, made his TV debut on Sportsview on 6 May, 1954, the day Roger Bannister broke the four-minute mile.
During more than 40 years in broadcasting, he presented a range of top-rated shows, including Match of the Day and Grandstand, as well as fronting coverage of events such as the Grand National and Sports Personality of the Year, his contribution earning him an OBE in 1992.
Manchester United legend Sir Bobby Charlton was on the pitch for one of Coleman's most memorable pieces of commentary, the amazing save from Gordon Banks to deny Pele during the 1970 World Cup.
"He was spot on. He knew what he was doing," said Charlton. "Pele headed the ball and Gordon Banks somehow or other got his little finger on the ball and pushed it over the bar. He just kept talking about it. He couldn't believe it."
Coleman also commentated on the 1974 FA Cup final, again producing a line that would stand the test of time as he declared: "Goals pay the rent, Keegan does his share" after Kevin Keegan had given Liverpool the lead on their way to a 3-0 success.
Former England international Keegan revealed the phrase is still repeated to him to this day and hailed Coleman as a "master".
"I didn't get to hear it first hand as the cup final was the only live game and I was playing," he said. "It has got a place in history."
Steve Ovett, whose many middle-distance battles with Coe were commentated on by Coleman, praised the latter's ability to spice up any event.
"He had a unique gift of saying the right thing at the right time," said Ovett. "I think that is the difference between a commentator and someone who enhances what you are seeing. That is the difference between an average commentator and someone as good as David."
Coe, the two-time Olympic 1500m champion, said Coleman was the best there had been "in [his] generation or the current", adding: "He brought cutting-edge journalism and gave some of the top administrators in sport a right going over, being brave in the way he did it."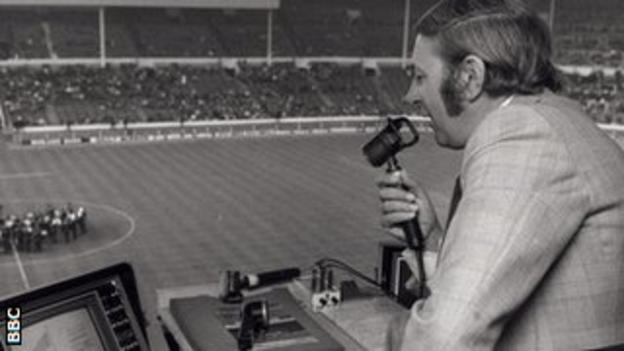 Marathon world record holder and 2005 world champion Paula Radcliffe described Coleman as "a true master in his field", while 1996 Olympic 400m relay silver-medallist Iwan Thomas said the former Sportsnight presenter was "a true gentleman and brilliant".
"When I first came into the British team as a youngster, I would watch back my races and I could tell from his commentaries that he knew what he was talking about," said 1984 Olympic silver-medallist Steve Cram, now a BBC athletics commentator.
"He had a reputation within broadcasting for being tough and demanding, but I always found him an incredibly generous bloke."
Cram's fellow athlete-turned-commentator Foster, the 1976 Olympic 10,000m bronze medallist, added: "David Coleman was the greatest sports broadcaster that ever lived, welcomed in every home in the country.
"He enriched so many lives and that was down to his brilliant commentary and presentation at all the major sporting events of the world.
"He was a giant of sports broadcasting. It was a privilege to know him and it was a privilege to have him commentating on races during my career. It was also a privilege to work with David and to call him a friend."
Coleman began presenting Grandstand from its debut in 1958, staying at the helm for a decade, and famously interviewed the Beatles on the show in 1964.
Wearing a sheepskin coat and silk cravat for the broadcast, he reported that dozens of girls in the 10,000 crowd waiting for the band were treated for cuts, bruises and "plain hysteria".
"He was just the best in the business as a presenter or commentator," said Steve Rider, who presented Grandstand from 1991.
"I'd never say he was an oasis of calm, but he was an inspiration and laid the foundation for everything BBC Sport broadcasting was about in the 1960s, 70s, and 80s."
Former BBC football commentator Barry Davies said Coleman was "the master who set the standard for sports broadcasting on television".
Davies said: "He had such authority in his voice which could bring even the most mundane event to life. At the big events, he was superb. I feel privileged to have known him, worked with him and occasionally stood in for him when he was in his prime."
Coleman, described by Sky Sports presenter Jeff Stelling as "an inspiration to many sports broadcasters, myself included", also presented TV quiz programme A Question of Sport for 18 years from 1979, working alongside popular captains Emlyn Hughes, Ian Botham, Willie Carson and Bill Beaumont.
"David was the doyen of sports broadcasters," said former England rugby union captain Beaumont. "He set the standards for others to follow.
"We spent lots of time together over the years and he was a lovely man as well as a great family man."
Former Liverpool defender Alan Hansen said Coleman spoke with "knowledge and authority".
The Scot, now Match of the Day pundit, added: "His commentaries are still fantastic. When he used to say '1-0', it was superlative."