Indigenous cricket in Australia: From red dirt to baggy green?

By Joe Wilson
BBC Sport in Alice Springs
Last updated on .From the section Sport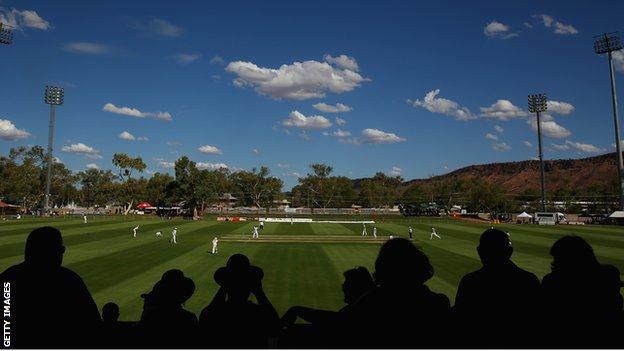 The aboriginal village of Santa Teresa lies about 50 miles outside Alice Springs.
It's not hard to find, go past the airport and keep driving, although within ten minutes the road basically stops. Then it's a case of gritting your teeth as the wheels clatter over rock and rutted red dirt on a track. It's broad enough to accommodate two vehicles just in case you should encounter a car coming the other way... which you almost certainly won't.
This is a glimpse of Northern Territory Australia, an area six times the size of the United Kingdom with a population of around 250,000. It is sparse, remote, and a part of the country which challenges Cricket Australia's key objective, that 'cricket is Australia's favourite sport and a sport for all Australians'.
"We certainly have some unique challenges up here," said John Stock, chief executive officer of Northern Territory cricket.
"Our development team is by far the smallest in Australia yet we've got one of the biggest areas to cover. We spend a lot of time on the road, on some difficult roads at times. But we think it's important to reach as many Australians as we can."
Santa Teresa is home to roughly 400 people. It's a neatly laid out village of mainly brick built bungalows. As you drive in you are reminded by a signpost that you are on aboriginal land and alcohol is strictly restricted.
The view is stunning, a green plateau in the distance, red dirt in the foreground and an oval of dust for sport.
We came to observe a coaching clinic for a dozen children, most of them indigenous Australians. Although there are considerable aboriginal populations in the big cities of Australia, it is here in the Northern Territory where there is the highest concentration of indigenous people.
The children are hugely enthusiastic and they run through fielding and batting drills in 40-degree heat with a genuine sense of joy combined with obvious ability. But when we asked them to name an Australian cricketer they struggled.
Marcus Williams, an assistant teacher at the village school, said: "I watch cricket on television, the Ashes, I do have an interest in it. But out here it won't affect the community, the kids, it's like another world to them."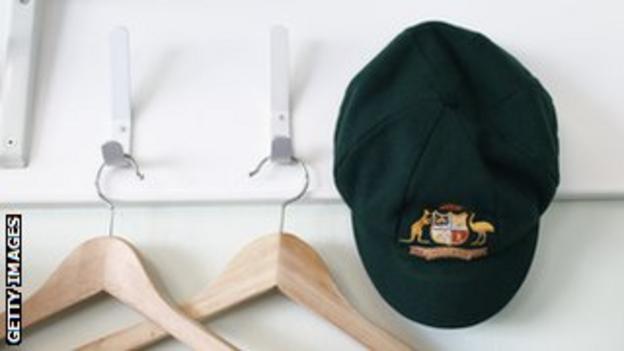 Northern Territory cricket has a brave ambition - for an indigenous player from this part of Australia to represent the country in a Test match by 2022. It's summed up in their mission statement "from red dirt to baggy green". It's a catchy slogan and undoubtedly a noble ambition, but is it realistic?
Viv Petit, an important member of the community as both a teacher and part of the traditional owner family in Santa Teresa, said: "Because aboriginal people have a natural ability with sport I think for someone to come from somewhere like this and make it ... I mean it would be very hard for them, but if it was to happen it would be a very good thing."
Traditionally Australian Rules Football has always been the most popular sport in indigenous communities. The huge contrast between isolated rural life and the big cities where professional sport is played has been a big challenge for aboriginal sportsmen from Northern Territory.
"It's about the skill level, doing coaching clinics and identifying a young indigenous kid at a young age and giving them the skills," said Marcus Rosas, an indigenous sports co-ordinator in the area.
"It's like any sport, if you identify any kid at a certain age and develop the skills they are naturally gifted with, anyone can play for Australia."