Paul Lawrie & Christian Horner get OBEs in Birthday Honours list
Last updated on .From the section Sport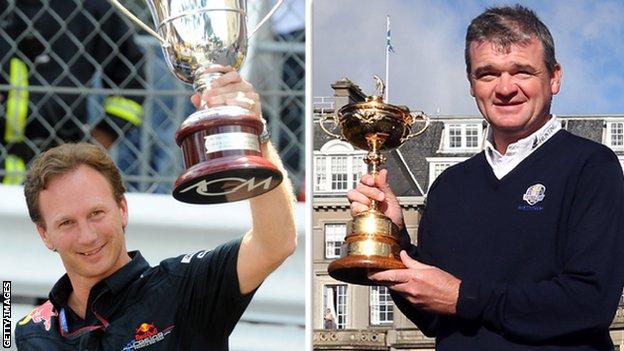 Scottish golfer Paul Lawrie and Red Bull Formula One team principal Christian Horner have each been awarded an OBE in the Queen's Birthday Honours.
Lawrie, 44, winner of The Open in 1999 and a member of last year's winning European Ryder cup team, has a foundation encouraging youngsters to play golf.
Horner, 39, has been recognised for services to motorsport.
Sports presenter Clare Balding, 42, has also been made an OBE.
Balding's coverage of the London 2012 Olympics made her one of the faces of the Games.
She said: "It has been a year of unexpected delights. This is the pinnacle."
Horner has been team principal at Red Bull since 2005 and has helped them win the last three constructors' championships.
He has also overseen Red Bull's German driver Sebastian Vettel, 25, become the youngest in history to win three consecutive individual titles.
"It's all a bit unexpected. Incredible really," he said. "I'm naturally shocked, but I just feel very honoured and privileged to receive it.
"To be in the company of men and women who have achieved such great things for the country is something very, very special.
"This is right up there with what I have achieved in motorsport."
Lawrie was keen to share the credit for his foundation's work.
"It's a huge honour but there an awful lot of people who do a lot of work for my foundation," he told BBC Sport.
"I'm the one who looks good and gets the praise, but there are a lot of people who work very hard, my wife especially.
"I would rather one of the foundation kids won a tournament than I won a tournament. I get a huge kick from that."
He added: "David Law won the Scottish boys and Scottish men's amateur championship in the same year, the first person in history to do it. He's been in the foundation a long time, so when stuff like that happens it's really cool to know you have helped him a little bit."
Other honours include Diana Ellis, the chair of British Rowing since 1989, being made a Dame after overseeing a successful period in the sport, and nine-time women's world professional darts champion Trina Gulliver awarded an MBE for services to darts and to charitable fundraising.
Richard Lewis, the former Sport England and lately chief executive of the Rugby Football League becomes a CBE, and Noel Bailie, a footballer in Northern Ireland who made more than 1,000 appearances for his only club Linfield during a 22-year career from 1989 to 2011, has been awarded an MBE.
Penny Briscoe, the performance director for the British Paralympic Association and deputy chef de mission at London 2012, also became an MBE for her role in the team's success at last year's London Paralympics.
The BBC's former head of major events, Dave Gordon, was made an OBE for leading the London 2012 coverage, for which chief engineer Richard Morgan was also made an MBE.