Nelson Mandela: Sport pays tribute to former South Africa president
Last updated on .From the section Sport
Sport's greatest icons have paid their own tributes to South Africa's first black president Nelson Mandela,
Muhammad Ali said: "His was a life filled with purpose and hope - hope for himself, his country and the world.
"He made us realise we are our brother's keeper and that our brothers come in all colours."
Pele said Mandela was "one of the most influential people in my life. He was my hero, my friend".
Iconic former boxer Ali added: "What I will remember most about Mr Mandela is that he was a man whose heart, soul and spirit could not be contained or restrained by racial and economic injustices, metal bars or the burden of hate and revenge.
"He inspired others to reach for what appeared to be impossible and moved them to break through the barriers that held them hostage mentally, physically, socially and economically.
"He taught us forgiveness on a grand scale. His was a spirit born free, destined to soar above the rainbows. Today his spirit is soaring through the heavens. He is now forever free."
Tiger Woods, the world's number one golfer and a 14-time major winner, said: "You will always be in my heart Mr Mandela... You have done so much for humanity."
Former England captain David Beckham said: "My heart goes out to the people in South Africa and Mr Mandela's family. We have lost a true gentleman and a courageous human being."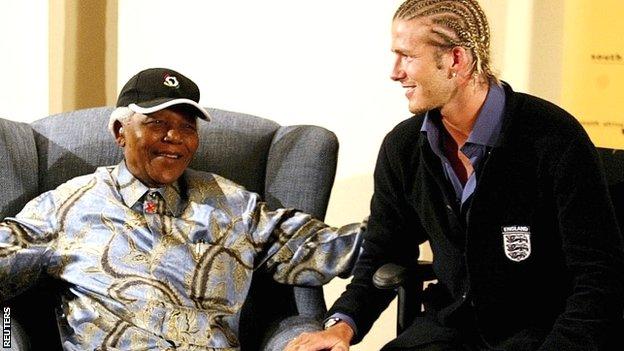 Sepp Blatter, head of world football governing body Fifa, said of Mandela's impact on football's 2010 World Cup in South Africa: "When he was honoured and cheered by the crowd at Johannesburg's Soccer City stadium on 11 July 2010, it was as a man of the people, a man of their hearts.
"It was one of the most moving moments I have ever experienced. For him, the World Cup in South Africa truly was 'a dream come true'."
He added that there would be a minute's silence as a mark of respect ahead of the next round of international matches.
The Premier League confirmed a minute's applause would be held before all of the top-flight matches taking place this Saturday, Sunday and Monday and the Football Association and Football League have also asked clubs taking part in their respective competitions to have a minute's applause before their matches this weekend.
Mandela once said "sport has the power to change the world. It has the power to inspire, it has the power to unite people, in a way that little else does," and his African National Congress saw sport as a way to unite the nation.
Sport had been targeted for sanctions during the country's apartheid rule, leading to bans from the Olympic Games and various World Cups, and almost complete isolation by the time Mandela was released from his 27-year prison sentence in 1990.
But South Africa were allowed to send a team to the 1992 Barcelona Olympics and enter the 1994 football World Cup qualifiers, long before the change in the political system was complete.
"The International Olympic Committee wanted Mandela in their ranks. He was an icon of the world and at the opening of the Barcelona Games they treated him like a head of state," recalled Sam Ramsamy, former South African Olympic Committee president and now an IOC member.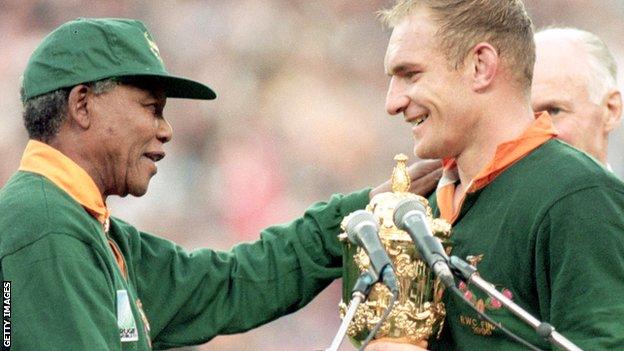 After he was elected president in 1994, the 1995 Rugby World Cup was the showcase for Mandela's unifying agenda in South Africa and the tournament's final created one of the defining sporting images of the century.
In that moment, racially divided South Africa came together in a way which had been unimaginable as Mandela, dressed in a Springbok jersey, presented the World Cup to captain Francois Pienaar after South Africa's 15-12 extra-time victory over favourites New Zealand,
Pienaar released a statement which read: "Nelson Mandela was the most extraordinary and incredible human being, not only because he united his country when such a task seemed impossible but also because, through his unique humanity, he inspired hundreds of millions of people across the globe.
"I will always be profoundly grateful for the personal role Nelson Mandela has played in my life, as my President and my example."
South Africa rugby tweeted: "Rest in Peace Nelson Mandela. We will never forget the role you played in our country, in our sport, and for that we are eternally grateful."
South African golfer Ernie Els described Mandela as "the most amazing man I ever met. He was the father of our country and our continent".
Els's compatriot and fellow golfer Gary Player recalled the day he shook Mandela's hand during a charity golf tournament in South Africa.
Player told BBC Radio 5 live: "I opened the door of the helicopter and he said 'Gary, do you remember me?' I shook his hand and he said 'I won't wash my hand for the next month'.
"He was a man who was humble, a man who was wise, a man who suffered for doing the right thing not the wrong thing.
"I don't have the vocabulary of a Winston Churchill to describe the man. His body is gone but his spirit will remain in this world forever."
The world number one ladies tennis player Serena Williams tweeted: "Nelson Mandela led one of the most impactful lives of our time. One life - Nelson Mandela's life changed many. May his legacy live forever."
England's record goalscorer Sir Bobby Charlton said: "Mr Mandela worked tirelessly all of his life for racial equality and his legacy will live on way beyond our lifetime.
"I feel blessed to have lived during his life span and privileged to have met him on a number of occasions."
South Africa cricketers Jacques Kallis and Shaun Pollock, former captain of the South Africa football team and Everton midfielder Steven Pienaar, South Africa rugby union players Joost van der Westhuizen and Bryan Habana and British Formula 1 driver Lewis Hamilton were among the many sportsmen to share their appreciation of the former president.
Cricket South Africa used their official Twitter account to say: "RIP Tata Mandela. It is because of you that a represented Proteas team can express their talent across the globe."
In Adelaide, a couple of hours after the news of Mandela's death was announced, a minute's silence was observed before the start of play on day two of the second Ashes Test between Australia and England.
Both sets of players wore black armbands in tribute to Mandela.
Six-time Olympic champion Usain Bolt also paid his respects, tweeting: "One of the greatest human beings ever. May your soul rest in peace. The world's greatest fighter."