Ronnie O'Sullivan: Luis Suarez will benefit from Dr Steve Peters's help
Last updated on .From the section Sport181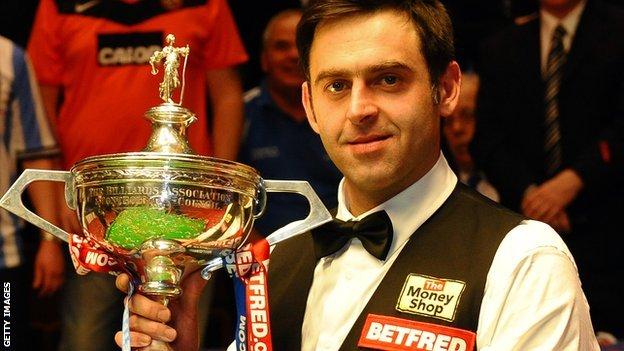 Snooker world champion Ronnie O'Sullivan says he has sympathy with Liverpool striker Luis Suarez and can understand his "moment of madness".
Suarez, 26, was banned for 10 games for biting Branislav Ivanovic - an incident O'Sullivan compares with his decision to quit a game with Stephen Hendry.
"I understand what Suarez did - I totally get it," said O'Sullivan.
"It's a moment of madness and you think, 'Wow, what have I done?' It's like me walking out against Hendry. You regret it afterwards, but at that moment you are over-run by these emotions."
O'Sullivan was fined £20,000 after quitting in the sixth frame while trailing 4-1 in a best-of-17-frame UK Championship quarter-final against Hendry in December 2006.
But O'Sullivan, who struggled to stay focused in long matches earlier in his career, began working with Peters in 2011 and went on to win the 2012 World Snooker Championship, his fourth Crucible success.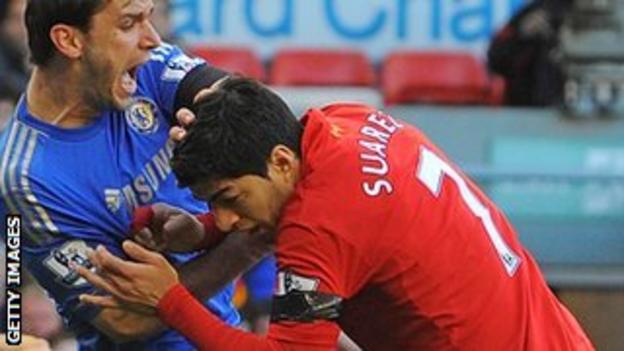 Now in the quarter-finals in his first major tournament after taking time away from the sport following last year's world title victory, O'Sullivan credits Peters for making him mentally stronger.
"Dr Steve Peters has been great to me," added O'Sullivan. "I've really worked hard with Steve and tried to take on board everything he's shown me and spoken to me about and I'm benefiting from it massively.
"Ever since I first saw him, before the 2011 World Championship, for the whole year leading up to winning the World Championship last year, I worked really hard on trying to get hold of my emotions and my brain.
"Not once have you been able to see me lose the plot. Sometimes inside I feel it's tough and it's challenging, but I'm able to overcome that."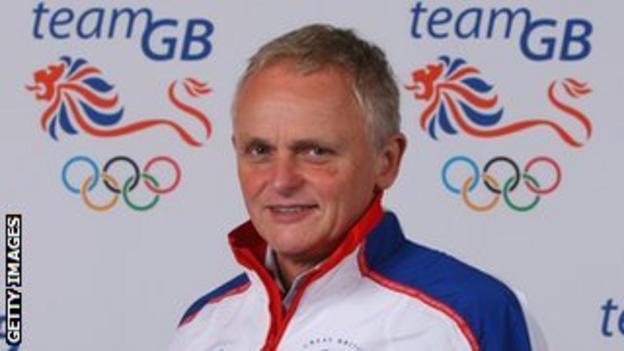 He insisted he would never walk out on a match again, adding: "None of those meltdowns will happen, no matter how frustrated I may be with myself out there. I'm able to put that on hold until the game's finished."
With Suarez banned until the end of September, O'Sullivan believes Liverpool and Peters, who has already been working with the Premier League club, will be able to help the Uruguayan control his temper when he returns to action.
"It's not a quick fix with Steve, but if Liverpool stick with him and Brendan Rodgers they'll win the title," said O'Sullivan. "If Liverpool can have Steve there for four or five years, then they'll win the Premier League."