Rod Carr and Nick Bitel move in at UK Sport and Sport England
Last updated on .From the section Sport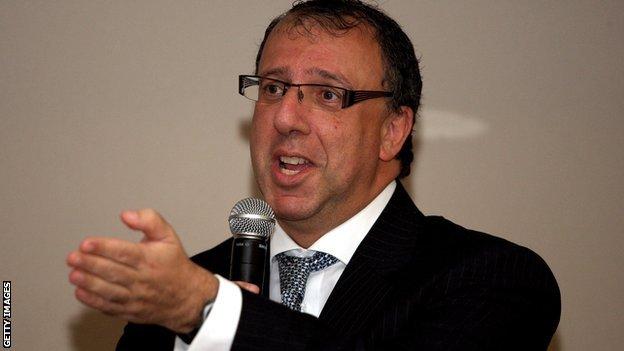 Sports minister Hugh Robertson has appointed Nick Bitel as the new chair of Sport England and Rod Carr as chair of UK Sport.
Sport England is the government agency in charge of grassroots sports, with UK Sport looking after elite performance.
Carr succeeds Baroness Sue Campbell, while Bitel replaces Richard Lewis.
The 11-time Paralympic gold medallist Baroness Tanni Grey Thompson had been considered favourite to land the Sport England post.
Carr is a former chief executive of the Royal Yachting Association while Bitel has been chief executive of the London Marathon since 1995.
An interview panel headed by Sir Keith Mills originally recommended Grey Thompson replace Baroness Campbell as chairman of UK Sport with Bitel proposed as the new chair of Sport England.
The sports minister decided to overrule the panel, instead favouring Carr or Mark Hanson as chair of UK Sport and Grey Thompson as the new head of Sport England.
However, Monday's appointments showed another change in opinion - and led to calls for more transparency in the government's selection procedure.
Shadow sports minister Clive Efford said: "The government must come clean about a process where a significant about-turn was made at the last minute.
"The sources that I have tell me that the government had decided on Nick Bitel as vice-chairman and then for some strange reason changed that decision.
"I think both Nick and Tanni are excellent candidates but what is wrong here is the shabby and shambolic way the government has made this appointment.
"This is unfortunate for Nick Bitel, who is an excellent candidate and who has done an excellent job for the London Marathon, but his appointment has been tarnished."
"We had a very strong field of applicants for these positions and it was important we got the very best people in place," Robertson said.
"Rod Carr has a wealth of experience in elite sport, and Nick Bitel has run the most successful mass participation sports event [London Marathon] in this country for almost twenty years."
Bitel, tasked with strengthening grassroots sport across the country, said: "I am delighted to be joining Sport England at what is a very exciting time for the organisation.
"London 2012 has given us a huge opportunity to deliver a real boost for community sport and Sport England is central to achieving this."
"The ambitious goal to win more medals in Rio will be our toughest challenge yet, but I'm confident that we can deliver," Carr said.