South Africa's fear factor - how crime affects sportspeople

By David Ornstein
BBC Sport
Last updated on .From the section Sport86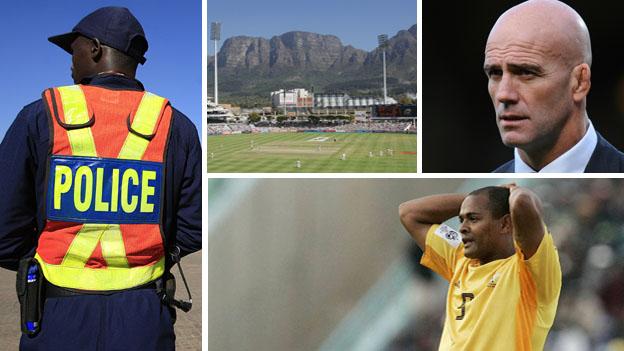 It was 5am on Sunday, 23 May 2004 when Frieda Visagie heard a car engine start outside the family smallholding in Maggiesdal, South Africa.
Convinced the Volkswagen of their 19-year-old daughter Marle was being stolen, she woke her husband Rudi and he leapt out of bed.
The 6ft 5in former Springbok rugby player ran to the cupboard, grabbed his 7.65mm pistol and broke open a window. He took aim at the moving vehicle and, with one pull of the trigger, it came to a standstill.
They raced out to apprehend the thief, only to encounter the unthinkable.
"As we got to the car, it was my daughter," 53-year-old Rudi recalls. "The only daughter I have, I will ever have. One that I love with all my heart.
"I saw her in the car, with her head over the steering wheel. Lifeless. There was no life. She was dead on the spot.
"I remember it like yesterday. Something like that doesn't just get out of your mind, it's part of your life. You can't change it, you can't change the bullet, you can't change anything."
Two weeks earlier, Marle had told her father she would be driving to see her boyfriend that morning as a surprise for his birthday.
In the meantime, two people were shot dead by robbers at the property next door, prompting Rudi to move his gun from a safe in an outbuilding to the bedroom. He "totally forgot" about Marle's trip.
Fear of crime in South Africa has again become a major talking point after over the fatal shooting of his girlfriend Reeva Steenkamp on Valentine's Day.
The Paralympic champion claims he mistook Steenkamp for an intruder, citing South Africa's crime rate to justify a paranoia that led him to keep a gun under his bed and open fire on a locked toilet door.
Many would find the idea of sleeping with a firearm in close proximity unusual, but somebody who can relate to it is Andrew Hall.
Before leaving South Africa for England on a permanent basis in 2011, the former Proteas cricketer slept with a revolver on his bedside table.
It is a precaution Hall would not have considered during a peaceful upbringing in Johannesburg, but his thinking changed following two attacks and a house robbery in the space of three years.
The first came in 1998 when he was attacked by two men at a cash machine. Six bullets were fired from point-blank range; one lodged in his left hand, another grazed his cheek and four missed their target.
"I don't think I've ever been back to a cash machine," says the Northants all-rounder. "Not two months after my incident, the same thing happened at the same ATM, but the person got killed."
Three years later, Hall was looking to sell his car and agreed to meet the prospective buyer in a shopping centre parking lot, which was supposed to be patrolled by guards.
But when Hall refused the man and a companion a test drive, a gun was shoved into his side. He was forced into the car, driven around Johannesburg for 45 minutes with the gun pointed to his head and eventually dumped in Soweto.
After his home was broken into and ransacked in a separate incident, Hall chose to spend heavily on security at home, installing gates, reinforced windows, motion-activated alarms and electric fencing. He also purchased and gained a licence for the firearm.
Were it not for his international career, Hall would have left South Africa earlier and he feels there are "too many risks" for him and his wife to return on a permanent basis.
The ordeal of former New Zealand rugby coach John Mitchell was no less traumatic, yet he chose to remain in the country.
Mitchell was attacked in his sleep, stabbed, and tied up as intruders raided his Johannesburg apartment in 2010.
"I was just saying 'Please don't kill me'," he remembers. "Everything flashed past me very quickly - 'Is this the end?' I was emotionally gone. I just wanted them to leave me alive."
Mitchell had recently moved over from Australia to coach Golden Lions and believes his position in the public eye, not to mention a branded car, made him an obvious target.
"But the best thing I ever did was stay in South Africa and face it," he says. "If I had left, I would still be thinking about that situation. People here are underprivileged and have to earn a living to keep alive.
"This is part of our country, part of the life we live in. If you are in that position, just make sure you leave people's lives intact."
The burglars who attacked and killed ex-South Africa cricketer John Commins at his Cape Town home on 2 January this year were not so forgiving.
His tearful daughter Donne, agent to some of South Africa's leading cricketers, says: "Not a single person is untouched by crime in this country. It feels to me like we're living a bit in the wild west."
She talks of a "perpetual anxiety" and "underlying fear", but is adamant "this is no longer a white and black thing" and that sportspeople are no more at risk than any other citizens.
Crime expert Rudolph Zinn argues sportspeople are actually less at risk because criminals do not want to attract the greater media and police attention that inevitably accompanies high-profile cases, such as the murders of in 2011 and a year later.
One common message from each of the interviewees was that the government must take decisive action to address poverty, unemployment, lack of education and immigration.
South Africa's murder rate is falling, but it remains 30 times higher than the United Kingdom. Gun ownership figures are fairly average, yet South Africa has one of the world's highest rates of gun deaths.
While serious crime has reduced by 31.8% since 2004, residential robbery is up by 64.4% and drug-related crime by 158%.
Commins refuses to blame the "overwhelmed" police. The officer investigating her case is handling 30 other serious crimes and said 15 faulty police cars at his station cannot be fixed until April.
South Africa Rugby World Cup-winning captain John Smit moved to English club Saracens in 2011, but he insists the switch had nothing to do with security fears and will be heading home this summer.
"I lived happily in South Africa and look forward to moving back, letting my kids play outside and ride their bicycles to school," explains Smit.
"For me, it's surprising to sleep with a gun by your bed. I sleep with the door open to hear the sea. You have to read your area. Maybe I'm lucky in Durban. I've never felt targeted."
Smit is not trying to hide from the problems faced by his homeland, rather urging people to recognise how far the nation has come since the end of Apartheid in 1994.
"We've come a long way and things are improving, but we know we have our issues and there is work to do," he says.
Former detective Zinn has carried out research to uncover police corruption, a lack of experience among officers and a confidence among criminals that they will not be caught.
It is no wonder those who can afford it are taking matters into their own hands. South Africa's private security industry employs more than double the number of police officers, while almost 1,000 new security businesses were registered last year.
"A very good security company is worth its weight in gold," says Mitchell, who moved to a high-security apartment complex after his attack was made possible by a guard falling asleep.
This indicates the potential pitfalls of even the most secure environments, including the heavily fortified gated communities which have proliferated over the past decade.
During the programme, Garth Jager takes us to the Silver Woods estate he helped develop and where Pistorius lived.
"More and more people are moving to gated communities for fear of violent crime," he says. "They are looking for security."
Yet these estates, according to Zinn, are not as secure as many would like to believe. Jager estimates that only 10% of houses inside Silver Woods have burglar alarms.
Former South Africa footballer Shaun Bartlett returned home in 2006 after six years in the English Premier League.
The 40-year-old opted against moving into a gated community in South Africa and says his only experience of crime has been in the UK, where burglars tried to enter his house in Kent.
Clearly, then, South Africa and its sportspeople are not alone. But there can be no denying the statistics and real-life stories paint a bleak picture of a country that has so much to offer.
"I just want to go back many years to when we stayed on a farm and actually left our cars open," Visagie concludes.
"It's heartsore to stay in a lovely country like this and have to protect yourself. It's like a jail and that is not right."