Become a BBC Sport app beta user
From the section Sport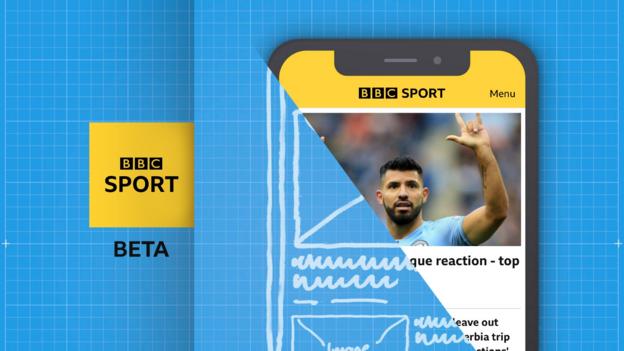 Fancy trying out our newest BBC Sport app features before the rest of the public? We're looking for a small group of regular app users to offer exclusive access to the latest version of our award-winning app. Think you fit the bill? Read the instructions below...
Download the beta app
iOS: TestFlight (external site).
What is the BBC Sport app beta programme?
The BBC Sport app open beta programme provides an opportunity for BBC Sport users to test the latest versions of our app before we release it to a wider audience. This will help ensure we provide the best possible experience for the audience and also provide beta users with the opportunity to feed back on our latest features so we can improve them further before they are fully launched.
As this is a pre-release beta version of the app, it may contain some errors and new features may not fully function. If this might be a problem for you, you should not join the beta group and continue using the latest version of the BBC Sport app.
Who is eligible?
The beta programme is available to UK users of the BBC Sport app. All users on Android 5.0 and iOS 10 and above are eligible. We are looking to recruit regular users of the app who visit frequently and are therefore more likely to discover new features and changes. Unfortunately we are only able to accept a limited number of beta testers on a first come, first served basis.
What does it mean to be a beta tester?
Beta testers will be given early access to the latest releases of the BBC Sport app. This version may include new features and designs not currently available to the wider audience. Your feedback will help us to identify and fix any problems plus will be pivotal in deciding whether we adapt a feature further before we launch. We may even decide to cease development of a new feature or design change if we receive a lot of negative feedback.
How can I get involved?
Android users can sign up to be a beta tester on the Google Play store (external site). Once you've been enrolled you will receive an update that will change your app to the beta version.
If you are using an iOS device you can download the beta version via TestFlight (external site). A new version of the app will be downloaded and your live version deleted.
How do I send you feedback?
Sending your feedback is easy. If you are on Android, search for the BBC Sport app in the Google Play store. You can submit your response from here. If you are on iOS, enter TestFlight, open the BBC Sport section and select 'Send Beta Feedback'.
If you have a problem while using the app, you can also contact us via these routes and we'll get back to you as quickly as possible.
What can I do to be an effective beta tester?
All you need to do is use the app as you would do normally and provide feedback on any changes or issues. What do you think of the latest design changes, navigation or new features? Generally, how could we improve the app?
What if I have a problem?
If you have requested a response we will aim to respond within two working days.
How quickly should I expect a response?
If you have requested a response we will aim to respond within two working days.
Can I use multiple devices?
Yes. On iOS follow the route above to install the beta app on any of your devices.
On Android, once you are enrolled in the programme, your Google account will be associated with our beta programme. All you have to do is go to the Google Play store on any of your devices and you will be offered the option to download the beta version of the app.
It's saying the beta app is closed to new members?
Sorry, we can only have a certain number of beta testers at any one time. Thank you for your interest - keep an eye out for when downloads are open again.
Will it void my device warranty?
No. As the beta app is distributed through official channels, it works just like any regular app - no changes to your device are required.
Can I also download the live BBC Sport app?
Unfortunately this is not possible. In order for you to download the latest public release of the app you would leave the beta group.
How can I leave the beta group once I've joined?
If you are an iOS user, all you need to do in uninstall the beta app. Once you have done that, reinstall the live version of the app from the app store.
To leave the beta group on Android, search for the BBC Sport app in the Google Play store. and select the 'Leave' option:
It may take several hours for your account settings to be updated once you opt out.