Sport England's grassroots funding brings accountability

By Gordon Farquhar
BBC sports news correspondent
Last updated on .From the section Sport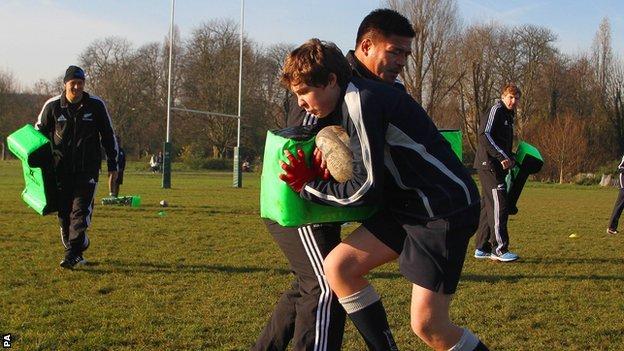 As Sport England announces which sports will be receiving what share of its £493m grassroots funding for 2013-17, BBC sports news correspondent Gordon Farquhar assesses what the winners and losers in the funding shake-up reveal about wider government priorities.
In much the same way that UK Sport expects medals for its money at the elite end, Sport England is very clearly saying it wants governing bodies to get serious about raising the heart rates of more of us, more often.
The government knows diabetes and obesity represent a ticking time bomb, with the possibility of a profoundly adverse impact on the resources of the NHS in years to come - hence the interest in making the nation more active.
Accordingly, those who have been creative in their participation schemes, such as cycling and netball, have been rewarded. Cycling now has close to £8m more to invest, netball a little over £7m.
Netball is doing particularly well at encouraging women back into the sport, and keeping those aged 16-25 interested. Sport England's most recent participation figures showed that, while there has been encouraging growth in other sectors, young people seem hardest to keep motivated.
That is why 60% of the £493m investment is going to support that demographic.
In contrast to cycling and netball, both rugby codes have fallen short of the targets they agreed for the last four-year period, and are suffering the consequences. They like big hits in rugby league but not the £10m reduction Sport England has slapped them with. Union will lose around £9m.
Six other sports, including tennis and swimming, are only being given one-year awards, with further funding to be allocated only when and if they hit their targets. It's a clear message: deliver or see funding wither.
A closer examination of the list of 46 sports throws up some interesting cases.
Mountaineering has seen its share more than double to £3m, wheelchair rugby and wheelchair basketball are doing well, and movement and dance is up to £1.9m from £800,000. Equestrian has pushed up to £6m from £4.1m but judo has fallen back from £9.9m to £6.1m.
Handball has seen a leap in funding from £600,000 to £1.2m, reflecting its rise in grassroots popularity. The exposure gained by the home teams during the Olympics prompted many inquiries from those wanting to take up the sport and funding should now be there to expand the game's grassroots and - in time - build the top-level talent pool.
The news on elite funding, for now at least, is likely to be less positive for a sport that just a few years ago was so far below the radar it was practically subterranean. Since 2009, British Handball says the number of regular participants has quadrupled, and it anticipates the number of affiliated clubs will almost double over the next 18 months.
Keep up that sort of growth and the sport will soon hope to find the talent it needs to start producing serious qualification contenders for major championships. That, in turn, will bring new revenue streams.
Football's grant of £30m may seem surprisingly generous in a sport awash with money, at least at Premier League level, but it remains a fact that the game is still England's biggest participation sport, and all that cash will go to grassroots projects.
The profile given to the GB women's football team during the games has spiked interest, again in a target area for Sport England.
In difficult economic times, the appetite within government for investment in sport doesn't seem to have diminished, and those who have understood the participation message are being provided with the financial tools to tempt us off our sofas.