How unpaid volunteers make the sports world go round

By Matt Slater
BBC sports news reporter
Last updated on .From the section Sport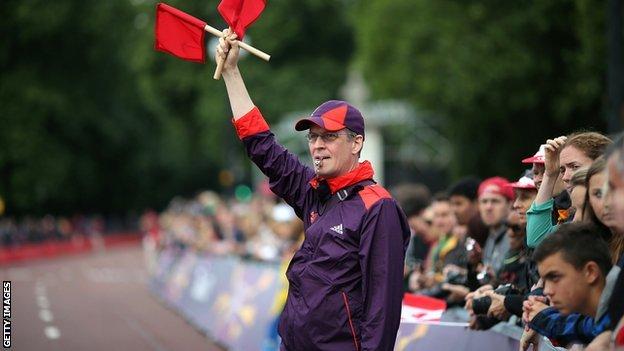 The khaki chino's long and illustrious history starts, it is believed, with the British Army in India, runs through the Boer Wars, before reaching its zenith in World War II, when it covered the legs of eight million US servicemen and women.
London's volunteer army of "Games Makers" was one of the biggest success stories in a summer when success stories elbowed aside cricket defeats and football transfer tittle-tattle to make us all just a little bit more cheerful.
Paid only with badges, stickers and memories, those beige-trousered philanthropists held the greatest show on Earth together in exactly the same way volunteers hold British sport together.
According to Sport England, there are two million adults who give up at least one hour a week to help out at their local club or at events. It is no exaggeration to say that without them grassroots sport in this country would wither and die.
Acknowledging this is important, with David Cameron talking about the "many heroes and heroines who run the Saturday-morning football, rugby and cricket clubs that provide the answer to getting more sport into our communities".
A recent Sport and Recreation Alliance (SRA) survey revealed red tape was still putting people off from offering their time. In one example, 60% of the country's sports clubs say "health and safety" legislation has a negative impact on their club.
Perhaps this is why 78% of the UK's 150,000 clubs have noticed no change in the number of people volunteering after London 2012; a shame when you consider that 240,000 people applied for a pair of those khaki slacks.
It is possible that the kind of person who wanted to be a Games Maker was already one of Cameron's unheralded "heroes and heroines", the kind of person the Torch Trophy Trust tries to help.
The trust's main function is giving grants of up to £1,000 to grassroots coaches, match officials and organisers so they can improve their skills. Its second key role is to celebrate their achievements.
Nineteen of these community champions will be at London's Army and Navy Club on Monday, and each and every one of them has a story of cheerful enthusiasm and selfless dedication to tell.
People like Mick Murphy, a retired electrician from Kent, who got involved with his local judo club 31 years ago when his children wanted to try the sport.
Mick spent the first couple of years just watching them try the martial art, but, having decided he could no longer play football and rugby to his old standard, he decided to give it a go himself. A few years later, he was a black belt and coaching youngsters from across south east London.
The Metro Judo Club has moved on a bit since then - it has swapped its cramped premises in a Blackheath community centre for bespoke space in the heart of a renovated senior school - but Mick is still there, coaching, bringing through talent like Olympic silver medallist Gemma Gibbons, his second Olympian, thinking of ways to grow the membership, and using sport to keep kids out of mischief.
Another is Cary Wicks from Dorset. Like Mick, Cary was introduced to a new sport by her children, three daughters with a passion for volleyball.
The middle one, Lucy, had the most potential and before long she was moving upwards through England's age-group teams. That journey was completed this summer when Lucy represented GB at London 2012 as the team's vice-captain.
Cary, meanwhile, had moved upwards through the various levels of parental support: cheering from the sidelines, ferrying girls to games all over the country, organising tournaments, running the governing body's "Adopt an Olympian" scheme that raised £35,000.
"Development sports such as volleyball could not survive without volunteers," said Cary. "They're the lifeblood of our sport."
And then there is Steve Spilka from Cambridgeshire. The director of a heating and plumbing company, the 35-year-old was a keen sportsman. Then he severed his spinal cord, his company was wound up and he found himself recovering slowly at Lodge Moor Hospital in Sheffield.
That was 1985. By 1987, he was back at home in Cambridge, setting up a wheelchair basketball team with another ex-patient from Lodge Moor.
By 1990, he was elected the Great Britain Wheelchair Basketball Association's development co-ordinator, before becoming the association's general secretary a few years later.
The last two decades have witnessed wheelchair basketball become one of this country's most popular disability sports, and Steve now administers its £1m+ elite-performance budget. If that is not enough, he is also treasurer for the International Wheelchair Basketball Federation.
His sport has developed from being entirely run by amateurs, to being largely run by paid staff, but the governing body's board are still volunteers, as are coaches and officials in clubs up and down the land.
"Volunteers have an important role to play as they provide stability to large organisations where staff turnover can be quite quick," Steve explained. "But for small organisations they are vital, particularly at club level, as few can pay staff.
"London 2012 has shown there are still many thousands of people out there willing to give time to volunteering, and the main challenge is to try to keep this momentum going and not lose the interest that's been generated."
The Torch Trophy Trust was founded 50 years ago by Commander Bill Collins, a Royal Navy officer and athletics administrator.
Collins had also organised the torch relay at the 1948 Olympics in London, for which, as a memento, he was given one of the two torches made for the relay's final leg.
That torch would become the trust's emblem and it is heartening to know the symbol of post-war optimism and renewal still inspires people today.