Peter Eriksson appointed UK Athletics head coach
Last updated on .From the section Athletics20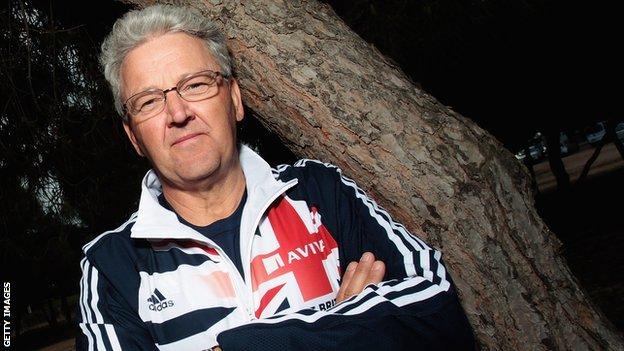 Peter Eriksson will replace Charles van Commenee as UK Athletics head coach.
Eriksson, 59, was the UK Paralympic head coach and helped steer the team to 120 medals at the London Games.
In finishing third in the overall medal table, Britain's medal tally was 17 more than the target which had been set by funding body UK Sport.
Van Commenee, who was in his role for three years, stands down after Team GB fell two short of his own target of eight athletics medals.
UK Athletics managed six medals at London 2012 with four gold medals and took fourth place in the track and field medals table, their best since 1964.
Eriksson, who was born in Sweden, takes over the role officially when Van Commenee's contract expires in December.
"It is a great privilege to be asked to take on this role," Eriksson said.
"I will continue with the methods and approach that has proved so successful in the Paralympic arena."
Van Commenee was appointed head coach in 2009, his second stint in British athletics, following a disappointing showing at the 2008 Games, in which the team fell short of their target and won just one gold medal.
His tough-talking manner was charged to revive UK Athletics and he had a proven track record having led Denise Lewis to heptathlon gold in 2000 and and heptathlete Kelly Sotherton to Olympic bronze in Athens in 2004.
Despite his success, his outspoken manner has led to some disagreements with athletes, most notably triple jumper Philips Idowu, who demanded an apology from the head coach when he criticised the athlete's use of social media website Twitter in July last year. The pair have not spoken since.
Idowu has already tweeted his approval of the new head coach, he said: "Happy for Peter Erikkson, met him in Italy a few years ago and he was actually coaching (not just a title)."
Eriksson, a former speed skater, began coaching in 1980 in his homeland before a move to Canada in 1987 saw him train Paralympic athletes for the first time.
The Swede's biggest success in Canada was wheelchair racer Chantal Petitclerc who he helped to five gold medals at the Beijing Olympics.
Eriksson was then signed by UK Athletics Paralympics team in the same year and led them to third in the medal table at the 2011 IPC Athletics World Championships before a highly-successful London 2012.
In his new role, Eriksson will work closely with UKA chief executive Niels de Vos and new performance director Neil Black and his first major challenge as head coach will be the 2013 World Athletics Championships in Russia.
There will obviously be focus on how he can improve the team ahead of the Rio 2016 Olympic Games and the 2017 World Athletics Championships which will be held in London.
"The next five years look like an exhilarating time for British athletics," Eriksson added.