Durham's lacrosse vision has some seeing stars
Last updated on .From the section Sport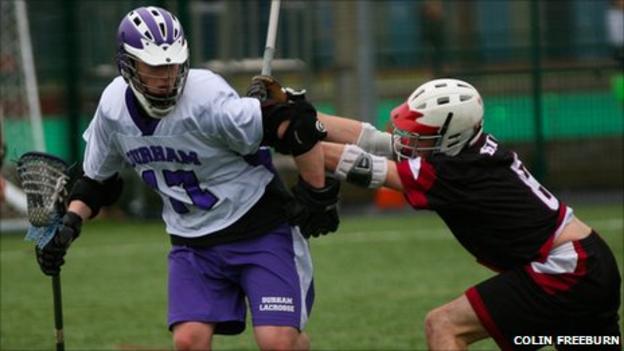 The crack of metal on metal reverberates like sword upon sword as two opponents tussle aggressively for the tough rubber ball that rolls invitingly before them.
With a shoulder leant in, one of the pair gains a yard and suddenly the ball is hooked up from the astroturf using a net on the end of an aluminium shaft and carried at pace toward the curved goal at one end of the field.
Skilfully the sphere is whipped to a team-mate, who with a flick of the wrist turns it past a flailing goalkeeper to open the scoring.
This is lacrosse, and it is as fierce, frenetic and physical as any sport I have seen before.
In the United States and Canada lacrosse is a professional sport and remains a popular discipline within the collegiate system, yet in the United Kingdom its profile is minimal.
However there are clubs trying to change that.
Durham University are one of the most promient and successful clubs in domestic lacrosse, retaining the British Universities and Colleges Sport championship in 2011.
The university runs a scheme offering scholarship to talented American players who are keen to study at postgraduate level, a measure that has been pivotal in the club's rise to the top.
"We're lucky to have a supporting unit, our athletic unit Team Durham is very supportive, we have training sessions and conditioning sessions," club captain Scott Pryor told BBC Sport.
"It's helped us to develop a strong team technically, but we've also recruited American players doing postgraduate courses, and we've got four coaches out of that.
"We have a first-team and a first-team assistant coach, along with a second and third teach coach to develop the players, and that has put in place a structure in which the young players can thrive and develop at a faster rate than any other university.
"The first team has a great depth of talent and we've had a very good season."
Such success has generated a level of discontent within lacrosse circles, notably regarding the decision to actively target talent from abroad.
One import to have made the switch to Durham is senior coach Mike McTernan, who prior to joining the university was Wales assistant coach, and a former Drexel University player in the National Collegiate Athletic Association League.
"People might have different opinions about it, but we're a school that has three teams, we're developing the sport," McTernan said.
"Night in, night out we have 40 guys out on the pitch working hard and getting better, and I'm not sure many other universities are doing that.
"You have to give credit to our athletic department really for good recruitment to bring in top notch players and coaches.
"It's nice to have a group like to play, it's pretty unique, I'm not sure there's too many teams in the country that have the set-up that we do, and we certainly enjoy it."
Other universities are now being encouraged to follow suit.
In March 2011, Sport England gave the English Lacrosse Association a sum of £300,000 to work with 30 universities in spreading participation levels as part of a £10m National Lottery fund.
Meanwhile Durham's efforts in creating opportunities for lacrosse continue to be at the forefront of future plans, with the intention of becoming the leading men's and women's lacrosse university in Britain.
"It's a long term aim we've got here, we've gone from one team to three teams in just two years, from 10-11 players to having a squad of about 40-45 players," Pryor continued.
"We want to grow the sport of lacrosse in the UK, we're looking at rolling it out into college level with Durham having 16 different colleges.
"The upshot from that will be the men's lacrosse university team will benefit from more players being engaged with the sport."