Cumberland wrestling round-up
By Roger Robson
Cumberland wrestling expert
Last updated on .From the section Sport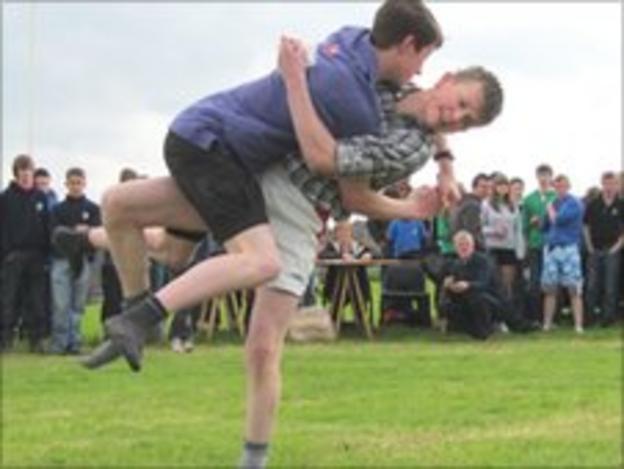 The Young Farmers' Club Field Day in North Cumbria is a wrestling competition with a difference.
The wrestlers compete for points and not prize money; each competitor can only compete in one category; no names are called out, only club names; and most are in club colours with their nickname or a daft slogan on the back.
The entry numbers, which would make any normal event envious, and the partisan support and good humour make it a lively event.
Not unexpectedly, though, the winners are wrestlers who make their mark in the open competitions of our Grass Season.
David Miller, representing Aspatria in the 9.5 stones, was a case in point when his years of training and competition at Carlisle Wrestling Club made the task easy.
Normally he has to wrestle well above his weight, but against level opposition he was able to go for his chips and won with inside hipes and swinging hipes in the final against George Irving of Kirklinton.
John Harrington of Caldbeck YFC not unexpectedly won the 11.5 stones against the inexperienced David Pollock of Raughtonhead in the final.
In the first round Harrington met Paul Murray, back after a long absence because of injury.
Harrington won but only after Murray had given a good account of himself.
Richard Fox is another Young Farmer who can win at the highest levels of the sport, and it was he who gave the most spectacular demonstration of the arts of Cumberland and Westmorland wrestling.
Fiona Laurie of Kirklinton does not wrestle often but her brother Murdo must have have been coaching her both for her outing at Grasmere last year and here at Calthwaite, where she felled Nicola Smith of Brampton in the final.
Last wrestle of the day was won by Katie Wigham of Caldbeck against Fiona Steel of Wigton.
Katie is better known as a ladies rugby player, but her regular participation in the Field Day has given her experience and recognition.
In the South of the county Sedbergh Gala attracted good entries, and showcased the qualities of the present wrestlers of Kendal Academy.
Star wrestler was Graham Brocklebank who won the 13st section in a final with William Atkinson and then went on to fell Joe Threlfall in the Heavyweight final.