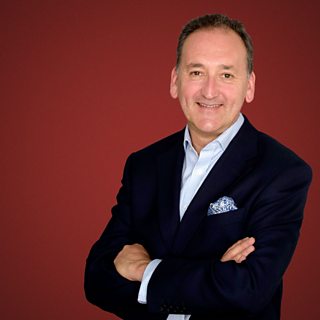 Essential Classics with Ian Skelly: Davis's Pride and Prejudice, Clare Balding, Nigel Kennedy's Four Seasons
Refresh your morning with a great selection of classical music. Presented by Ian Skelly.
Tracklist
1
John Gardner
Overture 'Midsummer Ale', Op 73
2
George Frideric Handel
Zadok the priest, HWV 258
3
Hubert Parry
PIano Trio no.2 in B minor. ii Lento
4
Nikolai Rimsky-Korsakov
The Tale of Tsar Saltan (The Three Wonders)
5
Carl Davis
Pride and Prejudice (Theme)
6
Alexander Glazunov
Concert Waltz No 1 in D major, Op 47
7
Joseph Marx
Castelli Romani: No. 3, Frascati
9
Carl Davis
Pride and Prejudice (Theme)
10
Wolfgang Amadeus Mozart
Symphony No 40 in G minor, K 550 (1st mvt)
11
Antonio Vivaldi
The Four Seasons, 'Spring'
12
Antonio Vivaldi & Nigel Kennedy
The New Four Seasons: Winter - The End
13
Antonio Vivaldi
Summer - 'His fears are only too true' (The New Four Seasons)
14
Felix Mendelssohn
A Midsummer night's dream - incidental music Op.61: Nocturne
15
Jean‐Marie Leclair
Flute Concerto in C Major, Op. 7 No. 3: I. Allegro
16
Geoffrey Burgon
Brideshead Revisted (title theme)
18
Ludwig van Beethoven
Andante for piano (WoO.57) in F major "Andante favori"
19
Ignace Joseph Pleyel
Clarinet Concerto in B flat major (3rd mvt)
20
Amy Beach
Ah, love but a day (Three Browning Songs)
21
Einojuhani Rautavaara
Cantus Arcticus
22
Cécile Louise Chaminade
Etude romantique Op.132 for piano
23
Ludwig van Beethoven
The Ruins of Athens, Op 113 (Overture)
24
John Dunstable
Quam pulchra es
25
Henry Purcell
An Evening Hymn
26
Steve Reich
Nagoya Marimbas
27
Jean‐Baptiste Lully
Marche pour la cérémonie des Turcs
28
Bedrich Smetana
Festive Symphony in E Major, Op. 6, JB 1:59: III. Scherzo