Chasing dreams as a deaf sportsperson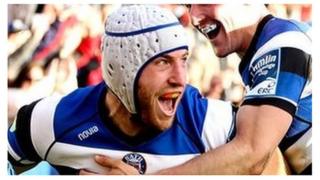 Rugby player Mat Gilbert is Britain's only deaf professional sportsman, playing as a back-row forward for Worcester Warriors in the RFU Premiership.
Diagnosed at the age of five Gilbert, whose nickname is Gumbie, has not let his deafness get in the way of forging a successful rugby career, which has involved spells at Bath, Llanelli and Mogliano in Italy, as well as notching up more than 10 caps for England Deaf.
School Reporter Arbaaz from St Johns Catholic School for the Deaf in Boston Spa, West Yorkshire, asked the star some questions about what life is like as a deaf person, and how it affects him in the context of his job.
Do you like being a deaf person and why?
I was born with bilateral sensorineural hearing loss, so I don't know what it is like to be a hearing person. I am happy being deaf; it has never stopped me doing what I want to do.
Can you do anything that you like to do as deaf person?
I do anything and everything. Sometimes it requires me to take my hearing aids out - like going in the sea when I go on holiday - but I don't let it stop me having fun.
What makes you carry on your dream as a famous person?
I enjoy what I do. If I didn't love playing the game, I wouldn't play it. The fame and more importantly being a role model is something that comes hand-in-hand with being a professional sportsman.
Do you have any deaf quotes to show that deaf people can do anything?
I don't have any deaf specific quotes. But I always say to people: "Have dreams, and work hard to achieve, don't allow yourself or other people to create barriers to those dreams"