Nick Clegg's visit sparks interest in politics for student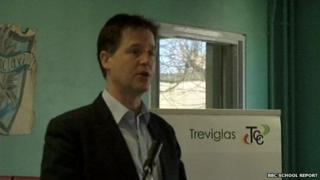 Deputy Prime Minister Nick Clegg visited Treviglas College in Newquay as part of the Speakers for Schools campaign to encourage young people to engage with politics and democracy.
After talking to around 60 students in the school library, he moved on to a special interview with some of their School Reporters.
Here are the pupils' reflections, and those of Deputy Head Teacher David O'Neill, on a special day for the school.
Alex, 13
"The visit was a bit surreal.
I knew that he's an MP and I had seen him on TV.
"There was a lot of remembering our lines to do.
"My question was that the resources in our school are battered and I asked if his party could donate money to get things replaced.
"He said he tries to donate a lot but he tries to focus more on schools with other needs.
"I wasn't really interested in politics before he came but I will probably follow the General Election now."
Shakira, 12
"It was quite exciting to have such a special guest visiting the school.
"The day before we got told that we'd been chosen to interview him and we only had about 10 minutes that day but then on the day itself beforehand we had an hour practising over and over again.
"My first line was about why shouldn't the voting age be lowered but then I asked a funny question when I said to him: 'Nick, one last question: why aren't you wearing a tie?'
"I went on about how unfair it was that we don't have to wear a tie and he does. He laughed and he said that he does sometimes but not very often.
"I said it's very informal and he said: 'Next time I come here or if I know I'll be around you, I'll make sure I am wearing a tie.'
"I thought of the question because I saw him walk out of the car and the day before I had looked at pictures of him and in most of them he didn't wear tie.
"Then I realised he wasn't wearing a tie at the moment so I decided I'd ask him!"
Cameron, 12
"It was exciting having Nick Clegg coming to the school.
"I knew quite a bit about him and knew he had to apologise about university tuition fees.
"We had one question each and mine was about why is it important for people to vote.
"He said it was because people in other countries fought and died for the right to vote and it's about our future.
"I was quite nervous. He was calm and shook our hands and said hi to us.
"The highlight of the whole thing was right at the end when Shakira asked a question about him not wearing a tie!"
David O'Neill, Deputy Head Teacher
"We found out a couple of days before that Nick Clegg was coming down and actually we thought it would be fantastic for our pupils to be interviewing him.
"It was interesting that considering how massive a profile Nick Clegg has, it didn't affect the running of the school one bit.
"We're not used to having major celebrities here although singer James Morrison went to this school and did a gig for us for our 50th anniversary."