School Reporter lives the American Dream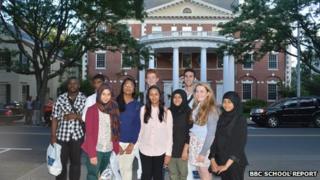 At the beginning of May 2013 I was asked by Mrs Nguyen, our head of student reporters, if I wanted to apply for the US Embassy Journalism Exchange Programme scholarship.
Without hesitation I said Yes!
On Thursday 6 June 2013, Mrs Nguyen came to see me and told me I had got the scholarship I was so desperately longing for - I was of course ecstatic!
Ever since year seven, journalism was a field I was interested in.
For me, journalism has always been about being able to write, analyse, edit and present news in this world with an unbiased mind.
The aspect of being able to travel and explore, meeting different people and seeing the world from various perspectives has always both fascinated and excited me.
I have always wondered whether it could be a possible career path for me and this trip gave me a life-changing insight.
Before my journey began, I was told that an orientation would be organised at the US Embassy where I would meet nine other fellow participants.
The day at the US Embassy was eventful, I quickly became friends with the other participants and we also received journalist training from the BBC School Report team in London.
We had a small session where we were taught about asking questions that would give us the best information we needed.
Meeting my fellow participants was nerve-wracking but exciting at the same time. We all came from very different backgrounds yet we all shared a common interest in journalism.
However, even in the field of journalism, we were all interested in various fields (sports, fashion, politics) and for me this further enhanced the experience as it allowed me to engage with people that I would normally not have had the chance to surround myself with if this had been a school trip.
It also, for me, meant the programme would allow us to explore a range of career possibilities in a single field.
The Big Apple
My journey officially began and I was extremely nervous yet equally excited.
My flight landed in New York. Being driven through New York at night was beautiful, marking an amazing start.
From ice cream at Central Park, an evening stroll through Times Square to dinner at America's first ever pizzeria, it was quite simply.…awesome.
The size of the portions did not disappoint either as we had to fold our pizza slices in half to eat them in true New Yorker style!
Of course the subway took a few days to master but by the end of the trip we were all 'pros'.
Every day was filled to the rim with incredible opportunities.
We only stayed in New York for five days but those days were filled with fun. My personal favourites were visiting Yale University and the Wall Street Journal.
Yale was utterly beautiful and meeting with professors and students gave me an insight to the American education system. It appealed to me very much and has even made me consider education abroad as a hopeful possibility in the future.
The Wall Street Journal was an entirely refreshing insightful experience as it showed us that working for a large company did not mean it was all strict and uptight.
I had now begun to see the world differently.
People I had met made me realise that sometimes in life you don't necessarily have to make all the choices, sometimes you have to do what you enjoy and that will take you down a career path where you will truly be happy.
The next leg of my journey was the nation's capital - Washington DC.
The city was completely different to New York. To begin with it was a lot less busy and everywhere we went, we were met with beautiful architecture and with DC's height restrictions, high-rises were nowhere to be seen.
This leg of the trip was induced with politics and culture.
As teenagers from the UK many of us had an idea of the American political system but not until the federalist briefing did we receive a clear breakdown of its formation and current situation.
As part of the cultural experience we were introduced to many local, non-partisan organisations that worked with teenagers on various issues that affected them.
The journalism element was of course always present. We went to visit a range of media outlets such as The Daily Beast and Vox media (an online media source concentrating on gaming and sports).
For me in DC, the best experiences were the baseball match and the walk around the city at night as well dinner with an American family.
They gave me an exciting insight to an American family life and we got to make friends and tasted the American open living culture - a part of it is often heavily stereotyped, especially to teenagers.
'Grab every opportunity'
Education played a key role on every leg of the trip too, as we visited the University of Virginia and explored their journalism course. The opportunity to interview professors of the university and students on the journalism course was valuable.
My final leg of the tour, Richmond, Virginia was the shortest leg but it certainly was not disappointing.
We visited an American middle school and a high school where we met with students and were able to contrast their daily life to ours.
I have made friends that I still regularly keep in touch with and it was an entirely different experience speaking to the local students about the perceptions of their nation's current political and social state.
The trip concluded with a visit to Charlottesville accompanied by a history lesson on how America was founded as well as a visit to Monticello which was the home of President Thomas Jefferson; the third president of America.
It was the perfect way to round up a trip that I will treasure for life.
The night we flew back to the UK I spent time reminiscing the past two weeks of my life. It was a short period but I knew it had certainly changed me, changed my perception of America and the way I approached situations.
I was given two pieces of advice that I will never forget, One; to live in this changing world even from a young age you must learn to build yourself a network of people, Two; you should always be open-minded and grab every opportunity that comes your way.