Euro 2012: Polish pupils soak up Republic of Ireland v Croatia experience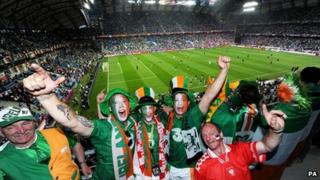 It's the first time Poland has organised such a big event and it took us as a country a lot of time to prepare it well. The Polish people were looking forward to starting it... and now it's finally happened!
Our day started with a train journey from Nowy Tomysl to Poznan and after an hour we got to the Central Station in Poznan. What emotions!
Crowds of supporters heading to the stadium were making a lot of noise because the real challenge on the pitch would soon begin.
Despite the rain, we saw thousands of excited football fans from the Republic of Ireland and Croatia. The fantastic atmosphere built up quickly!
Everybody was going straight to the City Stadium, where Lech Poznan play. Among the fans we could see families with their children, teenagers, adults of all different ages, all seemingly dressed in green or red-and-white clothes, hats and make-up!
On the way to the stadium we interviewed two fans from the opposite teams. We asked them some questions about their predictions for the match, their favourite players and their thoughts about Poland.
The Ireland fan said they thought the score would be 2-1 to Ireland, but unfortunately for them they were not right. The Croatia fan who expected to win 2-0 was closer, with Croatia beating the Republic of Ireland 3-1.
And the Croatia supporter will have been very pleased to have seen their favourite player Mario Mandzukic score two goals! And we were pleased that both fans said they liked Poland!
Finally we reached the place of our destination and the opening ceremony started. At first we could see a dancing show. Everybody felt excitement, because of this impressive performance.
Later each team's fans sang their songs in their own mother tongue. With the Irish fans shouting: "You will never beat the Irish!".
Then the 39,550 fans inside the stadium stood up and joined in to sing the national anthems. The both halves of the match started with a whistle of the referee.
All the spectators clapped their hands, jumped, crossed their fingers and shouted loudly to motivate their players.
But as well as everything that happened during the game there were other incidents that took place on the pitch.
After the first goal one of the Croatian fans threw a firework on the pitch. Everybody was frightened, because it exploded and made a loud noise.
And after the third goal for Croatia had been scored, one supporter ran out on to the pitch. He went straight to Croatia manager Slaven Bilic and hugged him, but the security guards soon caught the man.
It was an amazing match, well worth seeing.
Not only because of four goals, but also because of unique atmosphere and devoted fans. We wish for many more battles like this one!