BBC Safety App
The BBC's Safety App has been developed to allow production and news teams working for the BBC to access the BBC's Safety Guidelines wherever they are in the world.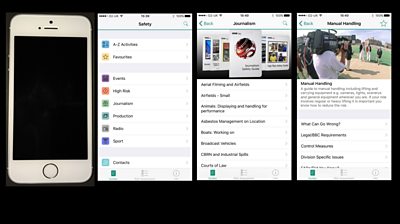 Introduction
Easy to use navigation will help you find the information you want, including our latest safety news items, access to our main Safety Guides (High Risk, Sport, Journalism, Production, Radio, Events) and our A-Z list of Safety Guidelines. The app is regularly synchronised to the BBC Safety website so you can be assured you are always looking at the latest content. The App holds the information on the phone, using a small amount of memory and without requiring an internet or phone connection.
In addition to the Safety Guidelines, the App allows you to collate hazards and controls from a range of Guidelines into a customised checklist/generic risk assessment (see more below). The App also allows you to give feedback to the Safety Team direct from your iPhone and/or iPad.
The App is written specifically for use by BBC staff and those who work directly for the BBC. It does not provide instruction on how others could manage safety within their organisation and adoption of the information provided does not guarantee them any measure of legal compliance.
Getting the BBC Safety App
The Safety App is available via BBC Essentials for iPhones and iPads. In order to get the App you will need to have first registered for BBC Essentials (only available via BBC network).
To install the iOS App:
Go to the BBC Essentials app on your iPhone or iPad
Search 'Safety', then click on the App to 'install'
Once you have done this, the Safety App will appear on your homepage as 'Safety'
Once installed, it should be up and running right away.
Key Features of the Safety App
A-Z Activity List
Use this section on the Homepage to see a list of all the activities available
You can also search by keywords.
Favourites
Use this section to identify your favourite activities, meaning they can be readily accessed in the future
You can add / remove favourites by selecting the star symbol which is available on all activity pages.
You can also remove favourites by clicking on edit within the favourite page.
Safety News
Automatically collates and displays the latest news items direct from the Safety website
Safety Guides
From the homepage, you can access a range of Safety Guides (Events, High Risk, Journalism, Production, Radio and Sport)
Each Guide gives you the list of activities which are commonly encountered for that Division / area of business
As for the myRisks Information site, each activity breaks down into: What can go wrong, Legal/BBC requirements, Control Measures, Division specific issues and FAQs
Use the "
Risk Assessment Notepad
This simple risk assessment notepad does not replace the BBC's normal Risk Assessment process on myRisks - it is intended simply as a back-up measure in support of fast moving events (as in some Newsgathering) or where events on location have overtaken normal planning processes, allowing you to pick out hazards and control and then email them for inclusion in your risk assessment.
To create a list of hazards and precautions from our Guidelines, simply enter your chosen Safety Guideline for an activity you propose to do
As you scan through the information, relevant or useful information can be picked out by clicking on the green icon immediately to its right. When you click on it, it turns red, and its addition to your risk assessment notepad is recorded numerically in the footer
When you have all the info needed, simply click on the RA Notepad symbol in the footer. The activities are listed alphabetically and the selected items are grouped into hazards, controls etc. You can add your own hazards and controls by clicking on "Add note" button
To delete pre-selected information, either go back into the Guide and de-select it, or simply click on "Edit" at top of the RA notepad and then delete
When it is complete, click on the 'share' risk assessment icon at the top right of the page. When the email screen appears, either add the email addresses from your phone's 'Contacts' or by manually typing it in. All items added to the RA Notepad will be included in the email.
You can edit the email before sending. If you do this, when you click 'cancel' to come out of it you have the option to save a draft of the edited email. This draft is not saved within the app, but in the draft folder of you default email account. To access this draft later, go to you mail and open the email account from the accounts section (not the inbox), and navigate to your draft folder to open the email.
Once it has been emailed (see below), all items will be cleared.
Tools, guides and contacts
Events guidance - key links:
Health topics - key links:
BBC High Risk - key links:
BBC Journalism - key links:
BBC Productions - key links:
BBC Security - key links:
About this site
This site describes what the BBC does in relation to managing its health, safety and security risks and is intended for those who work directly for the BBC.
It is not intended to provide instruction or guidance on how third parties should manage their risks. The BBC cannot be held liable for how this information is interpreted or used by third parties, nor provide any assurance that adopting it would provide any measure of legal compliance. More information
Some links on this site are only accessible when connected to the BBC network